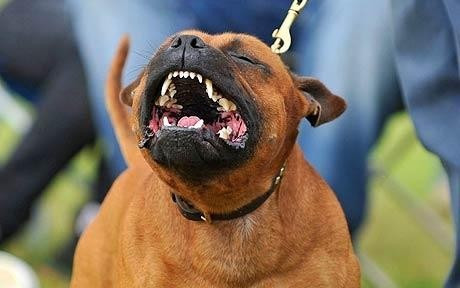 A man in Essex has been killed by his partner's "highly protective" Staffordshire bull terrier.
The victim, named locally as Barry, died of internal bleeding from a ruptured spleen.
His partner, a woman aged 36, was arrested but released without charge and the dog was destroyed.
Neighbour Billy Morgan, 53, who lives above the flat where the terrible incident occurred, told how he had been invited in days earlier to celebrate his birthday.
He said: "Barry's partner told me it was highly protective of her. They were always telling it 'move', 'shut up' and 'sit there'.
"If you made a move it would look or growl at you, it made me feel really uncomfortable. I don't know whether it attacked him because they were arguing – I have heard them talking loudly but never shouting."
He praised Barry, adding: "When he heard I had spent by birthday on my own he bought me four cans of Holsten and invited me to celebrate with them. The guy was so nice. I can't get over what's happened."
Simon Praill, the victim's landlord, said the community was "in shock". Police confirmed the death in Westcliff-on-Sea, Essex, was not being treated as suspicious.
Officers said Barry was bitten several times.
A spokesman added: "It is likely that during the incident the man sustained an injury to his back and this then caused damage to his spleen.
"It is not yet possible to say how that back injury was caused. The injuries to the spleen were not due to the bites by the dog."
Expert dog trainer, Keith Dukeson, of nearby Great Wakering, called for tighter controls such as compulsory training courses and licences for all would-be owners.
Teenage girl Jade Anderson was mauled to death by four dogs in a house in Wigan last March.
Jade's family said they were "disgusted" when dog owner Beverley Concannon walked free with a suspended sentence.
At Wigan Magistrates Court, 45-year-old Concannon was given a 16-week suspended jail term after admitting causing suffering to the four animals.
Jade had been at Concannon's house in Chaucer Grove visiting a teenage friend.