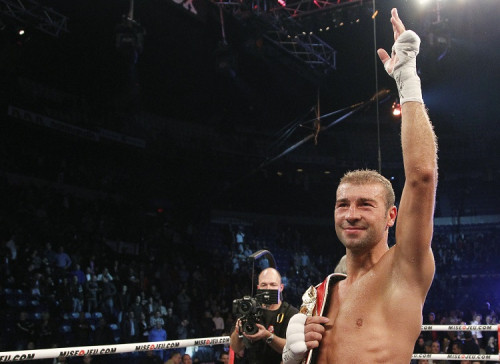 A long book could be written called The Great Fights Which Never Happened where the background politics of what Chris Eubank infamously dubbed "the mug's game" would be exposed.
The best example in our era is the failure of a bout between Floyd Mayweather Jr and Manny Pacquaio to materialise.
Everyone has demanded it yet the art of excuse making in the Mayweather-Pacquiao fracas has shocked even the greatest of boxing cynics.
Fortunately the Canadian fight scene, which has been based in Montreal and has developed into one of the boxing capitals of the world has given us the first super fight of 2014.
Jean Pascal (28-2-1, 17 KO) and Lucian Bute (31-1, 24 KO) are the biggest attractions in the Canadian fight scene and their 18 January clash at the Bell Centre in Montreal will be deadly.
The old cliché that styles makes fights is probably the greatest truism in boxing and the contrast between Pascal and Bute plays beautifully.
The Fighters
Bute is a stylish boxer with power that made his reputation in the super middleweight division where he was the IBF champion.
He won the title in 2007 and made a string of defences against notable contenders until he was dismantled by Carl Froch in May 2012 in five brutal rounds.
He has not been the same fighter since then and was unable to withstand Froch's aggression, toughness and punching power.
Bute only had one return fight against Denis Grachev at the end of 2012 and did not fight for the whole of 2013.
How he will cope with his inactivity and the fact he is moving up in weight to the light heavyweight decision to compete with a puncher of Pascal's pedigree is anyone's guess.
The advantages Bute brings to the contest are his quick hands, superior technique, stamina and excellent body punching.
He is a very well rounded fighter that has been able to beat fighters just below the elite level, including Librado Andrade and Glen Johnson, comprehensively.
However, his downfall has been when he has taken on those who are considered the top fighters in the world.
The Froch bout revealed that high pressure, hard punching and roughhouse tactics upset his rhythm and expose his chin that is not the most durable in the sport.
Pascal could not be more different from Bute. He fights in the mould of Roy Jones Jr and David Haye.
He holds his hands low and uses his raw athleticism to ambush his opponents with huge punches launched from mysterious angles.
While Bute is a conventional and boxer-puncher in a classic sense, Pascal is as unorthodox and unpredictable as they come.
His strengths are exceptional power that is underrated, superb speed, a remarkable chin and the ability to mislead his opponents through his style.
Pascal fought Froch in 2008 and lost to him in a gripping 12 round war which exposed his flaws.
Although quick, Pascal is hittable and has the tendency to run out of stamina in the sixth round as he did against Froch.
Pascal also has dislocated his shoulder in the past and has been as inactive as Bute having fought only twice in the last couple of years.
If he cannot knockout his opponent early and gets locked into a boxing match, he can be out boxed.
This is what happened in his two fights against the American legend Bernard Hopkins.
After he hurt Hopkins and knocked the wily veteran down in the first fight, Hopkins was able to come back into the contest with his counter-punching and sheer bloody-mindedness.
Unfortunately for Bute, he does not have the resilience of Hopkins and if he cannot survive Pascal's incredible power, he will probably leave the ring on a stretcher.
Pascal also has the experience of being a former world champion and fighting at the light heavyweight limit for a number of years.
Outcome
Bute and Pascal have opposite objectives. Pascal wants the fight to end quickly and without too much effort.
Bute must survive the early rounds and try to be cautious so he does not take too many of Pascal's power shots.
This will be difficult as Pascal does not have trouble with jumping on a fighter and hitting them extremely hard.
The atmosphere will also be intense as the bout is taking place in Montreal, Quebec and is the biggest bout since the Sugar Ray Leonard versus Roberto Duran contest in 1980.
When boxers of a certain standard are following in such footsteps, the chance of a boring bout without a dramatic conclusion is unlikely.
Expect fireworks.