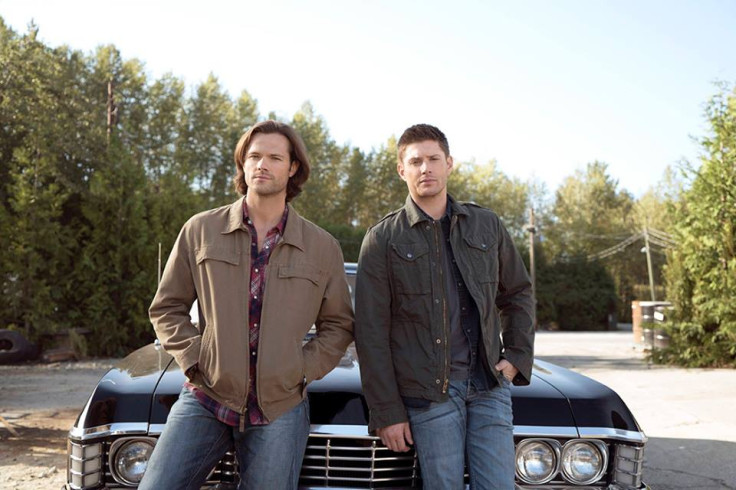 Jensen Ackles is back in British Columbia to begin filming for Supernatural season 13 and took to social media to share a Comic-Con poster featuring himself as Dean Winchester and Jared Padalecki as his brother Sam.
The image is from TV Guide Magazine's Comic-Con 2017 issue, with Ackles captioning the image on Twitter as "I have so many thought bubbles for this photo. Please share yours. #WBSDCC #SPNFamily." He also shared the poster on his Instagram account.
The show's actors Padalecki, Ackles and executive producers are expected to talk about The CW's upcoming 13th season at the Supernatural panel, on 23 July (Sunday) at Hall H at 10:30-11:30am EST.
The 39-year-old actor also shared a snap of himself with his "hiatus beard" and dark sunglasses on Instagram and revealed that he begins filming for Supernatural soon.
He captioned the image saying, "Back in beautiful British Columbia to start season 13. Goodbye hiatus beard. It's been real. #spnfamily."
Fans were thrilled to see the Comic-Con poster and took to social media to comment on the actor's posts. A fan noted, "Omg, I can't wait for season 13!!! I wish I could go to Comic-Con and see u guys! Good luck & have fun!"
Another follower commented on Instagram, "Wow wow wow! I am so so so looking forward to it!Come on guys," while another user replied, "I just tried to google image a table read photo for Supernatural. Do you even do those 13 seasons in? Ya'll know the characters enough and all."
An enthusiastic fan of Supernatural wrote, " I've been watching since you guys aired... I'm hoping there's no ending the show anytime soon! Love you guys and the storyline!"
Supernatural season 13 will premiere on 13 October on The CW network. Mark Sheppard, who played the King of Hell Crowley on the show, has confirmed that he will not return for season 13.
However, Misha Collins, whose character Castiel was unexpectedly killed in the season 12 finale after Lucifer stabbed him with an angel blade, will return in the upcoming season.