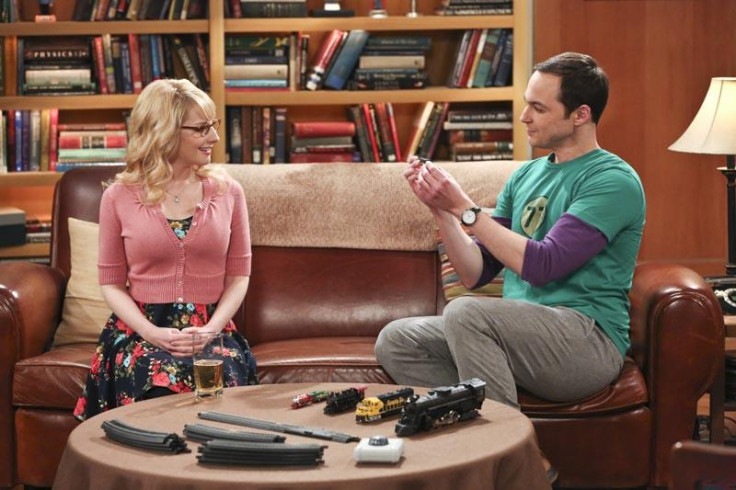 The Big Bang Theory actress Melissa Rauch has announced that she is expecting her first child in the fall of 2017 with husband, Winston. Co-stars Jim Parsons and Mayim Bialik took to social media to congratulate the actress.
Co-star Jim Parsons, who plays Sheldon Cooper on The Big Bang Theory, posted a photo of Melissa cradling her baby bump, and captioned it, "Huge congrats to @themelissarauch and Winston as they announce they are expecting a baby and a major "bravo" to Melissa for the beautiful piece she wrote about it for Glamour.❤️"
Mayim Bialik also reacted to Rauch's pregnancy reveal and took to Instagram to wish her. The actress who plays Amy Farrah Fowler, re-shared Rauch's post and captioned it, "Wishing my friend and castmate @themelissarauch only joy and blessings as she enters this stage of life. What a beautiful touching way she is sharing her experience. #Repost@themelissarauch".
The Bernadette actress posted a blog on Glamour.com to share her emotional and heartfelt story of the long road to parenthood. Melissa begins by saying. "Here is the only statement regarding my pregnancy that doesn't make me feel like a complete fraud: "Melissa­ is expecting her first child. She is extremely overjoyed, but if she's being honest, due to the fact that she had a miscarriage the last time she was pregnant, she's pretty much terrified at the moment that it will happen again."
"She feels weird even announcing this at all, and would rather wait until her child heads off to college to tell anyone, but she figures she should probably share this news before someone sees her waddling around with her mid-section protruding and announces it first." she continued.
Speaking about her earlier miscarriage, TBBT actress wrote, "The miscarriage I experienced was one of the most profound sorrows I have ever felt in my life. It kickstarted a primal depression that lingered in me. The image of our baby on the ultrasound monitor—without movement, without a heartbeat—after we had seen that same little heart healthy and flickering just two weeks prior completely blindsided us and haunts me to this day."
Rauch will return as Bernadette in The Big Bang Theory season 11, which premieres 25 September 2017.