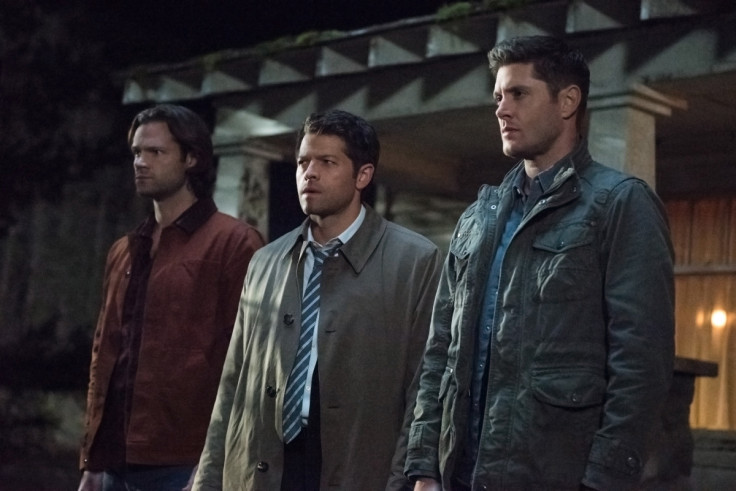 Supernatural season 13 is set to premiere on 13 October on The CW and executive producer Jim Michaels has already teased fans of the show by sharing the first poster of the upcoming season on Twitter.
The black and white photo, which was originally posted on Who Say, features an old house, with Dean Winchester's Chevrolet Impala parked outside, as the ominous clouds and sketchy backgrounds set up a gloomy scene. There is episode 13.01 written on top of the poster with details about who will direct the season's premiere episode.
Alongside the image, Michaels wrote, "Time to tech survey the season opener of #Supernatural season 13! #SPNFamily Written by @andrewdabb & directed by Phil Sgriccia!"
Fans were quick to comment on the Twitter post with queries about Castiel and others. The angel was unexpectedly killed in the Supernatural season 12 finale after Lucifer stabbed him with an angel blade before the Winchester brothers.
However, Misha Collins, who plays the angel, has confirmed that he will return for Supernatural season 13.
A user commented, "Can't wait for Castiel to come back!!!" while another tweeted, "I am SO excited!! I hope this is a great season! Dont forget the bro love and it will be! :D #supernatural13 #SPNFamily."
Fans welcomed the cast and creators back for the new season. A fan tweeted, "Welcome back everyone enjoy and good luck for season 13 #Supernatural #SPNFamily." Another said, "Yahoooooo!!!! And you're back!!! Thank you thank you for the show we adore.... #SPNFamily."
Calling the hiatus a "hellatus", a user commented, "It's here....wow. Hope S13 goes smoothly. Good luck to y'all . Now for the end of "hellatus" for us #spnfamily."
As reported earlier, the 13th season of The CW series will feature an animated crossover with Scooby Doo and set up a spin-off series titled Wayward Sisters, starring fan-favorite Kim Rhodes, who has played Sheriff Jody Mills on the show for years.
The spin-off will be about Mills and a group of troubled young women, all of them orphaned by supernatural tragedy. Under Mills' training and protection, the women will emerge as a lean and mean monster-fighting force.