Jenson Button says he is disappointed by the actions of Lewis Hamilton after his McLaren teammate posted an image revealing private car data prior to the Belgian Grand Prix.
Hamilton posted a picture displaying the telemetries of his car and Button's during their qualifying session in Spa, which despite being quickly removed was copied around the paddock before race day.
McLaren technical boss Paddy Lowe said the leak of the information had done little damage prior to a race which saw Button stroll to victory in his 50th start after earning pole position during qualifying on Saturday.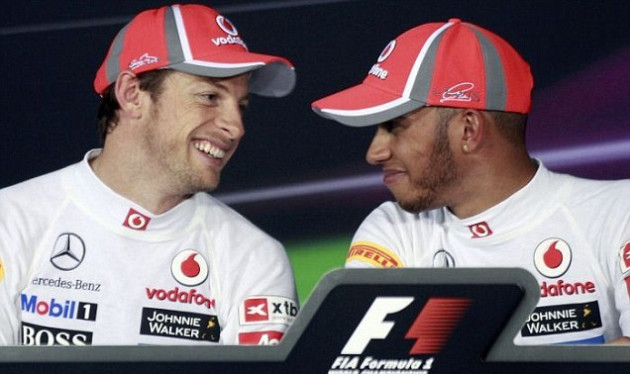 "We work so hard to improve the car and keep things like that secret and private. I didn't want to see it on Twitter," said Button.
"It was the whole telemetry from qualifying. It wasn't just the rear wing. I was very surprised and disappointed," said the 2009 world champion, who added that the matter was also now behind him.
"I think it's done now. I don't think it's for me to be angry with Lewis. It's not a personal thing," he said.
The 27 year old had previously tweeted his dissatisfaction with his pace during qualifying, which had seen him opt to use the old rear wing, while Button qualified on the front row with the updated part.
"Jenson has the new rear wing on, I have the old," tweeted Hamilton. "We voted to change, didn't work out. I lose 0.4 seconds just on the straight."
He added following a team debrief: "Car is not fast enough at the moment but have made some big changes."
Despite McLaren playing down the significance of Hamilton's revelation, the incident is the latest in a catalogue of troubling episodes in the recent relationship between the two parties.
In the final year of his contract, Hamilton is yet to pen an extension with the team he joined in 1998, and after a season in 2011 in which driving error undermined his charge for the drivers' championship, the 2012 campaign has been littered with pit stop mistakes leading to the Brit lying 47 points behind leader Fernando Alonso.