Jeremy Corbyn and Andy Burnham get close as Yvette Cooper maintains Labour leadership attack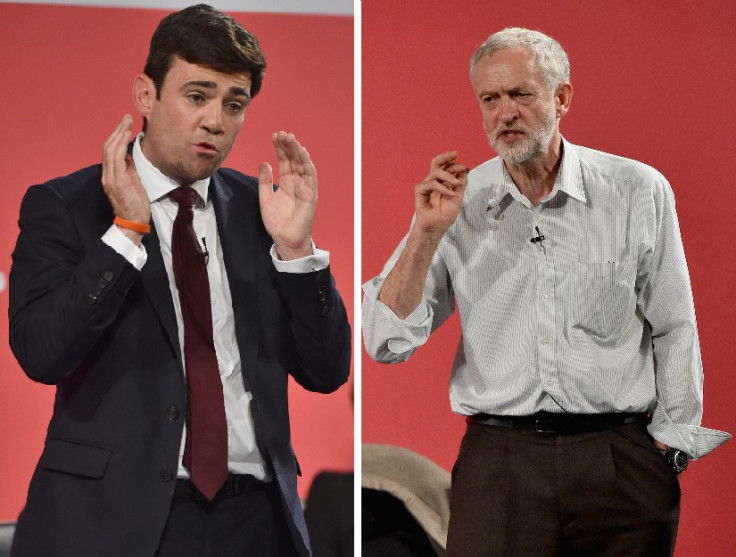 Jeremy Corbyn and Andy Burnham are putting on a united front as the Labour leadership election heats up. Burnham has already promised to give the left-winger a role in his shadow cabinet if he wins and it now seems Corbyn would return the favour.
"Obviously there has to be a party of all the talents and, of course, we can work together, and that's an easy thing to do," Corbyn told BBC Newsnight on 17 August. Burnham, the MP for Leigh, has not attacked Corbyn throughout the leadership race despite interventions from Labour grandees including Gordon Brown and Tony Blair against the veteran parliamentarian.
Instead, Burnham has praised Corbyn's "energy" and described the 66-year-old as a "man of integrity". The former health secretary's reluctance to attack the shock frontrunner has prompted Yvette Cooper's camp to call for Burnham to stand aside and let their "real alternative" candidate take on Corbyn in the election.
But Burnham has hit back and called the criticism "disappointing and actually quite strange" when he appeared on BBC Radio 4's Today Programme on 17 August, while billing himself as the only candidate capable of stopping Corbyn in the contest.
The comments come after ballot papers began to land in letterboxes with less than a month until Ed Miliband's successor is announced on 12 September. Labour has said more than 610,000 have signed up to vote in the election, including 189,703 affiliated supporters, 121,295 registered supporters and 299,755 members.
The latest independent poll, conducted by YouGov and commissioned by The Times, gave Corbyn a 37-point lead over Burnham (57% vs 20%) on first preference votes. The survey, which questioned more than 1,000 Labour supporters and was revised in light of the number of people voting in the election, also put Cooper on 16% and Liz Kendall on 7%.
But that did not stop David Miliband from endorsing Kendall as his first preference vote and Cooper as his second. The former foreign secretary intervened in the election yesterday by penning a piece for The Guardian.
The former leadership contender wrote: "The leadership election is about the country and not just the Labour party. It is in the interplay of the values, instincts and ideas articulated by Kendall and her supporters in her campaign, and in Cooper's speech, that Labour will ever return to government and improve the country. That is why I shall be casting my first and second preferences for them this week."
Miliband, who retired from parliament in 2013 and become the head of International Rescue Committee, also attacked Corbyn for pushing an anti-austerity agenda similar to the policies of Greek political party Syriza.
© Copyright IBTimes 2023. All rights reserved.