Jeremy Corbyn: Inside the Islington cafe where Labour leader is worshipped as Santa Claus
Jeremy Corbyn has faced numerous challenges in his first 100 days as leader of the opposition. From not singing the national anthem to his anti-bombing stance over Syria, the 66-year-old left-winger has come under intense media scrutiny ever since his landslide victory at the Labour leadership election.
But in one business in his local London constituency of Islington North, support for Corbyn is as strong as ever. At the Gadz cafe in North London's Finsbury Park, among the pictures of Elvis and Michael Jackson, is a veritable shrine of photos of the Labour leader.
So great is their love for Corbyn that the cafe's Christmas tree has not an angel or star on top, but a photo of the man staff and customers affectionately call by his first name.
"I changed the picture from Santa to Jeremy [Corbyn] this year because Jeremy is more than Santa Claus," says Hussein Jabar, the owner of Gadz.
"How he helps the people he needed it more, I think. He's like a hero for me."
Jabar has been the owner of Gadz cafe for seven years, moving to the UK from Lebanon 20 years ago. He claims that ever since he started his business Corbyn has been coming in for a coffee and a chat and that, contrary to his expectations, the MP has still been regularly visiting the establishment even after becoming the leader of Her Majesty's official opposition.
"I've known Jeremy Corbyn six to seven years. He keeps on coming in. He likes my coffee, my cappuccino and he likes my falafel [because] he's vegetarian. He's a very nice man," says Jabar.
"When he became [Labour] leader I thought he wouldn't come here no more. But the very next week here he was. He doesn't love money, he eats the same food, he never changes for anybody and he never says no to anybody," he adds.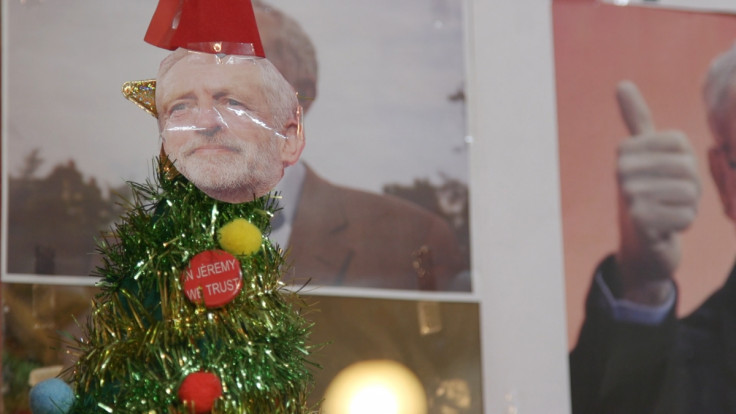 Corbyn might have fervent support in Islington, where at the last election he managed to receive over 60% of votes, but questions remain over his credentials to become prime minister. A new Opinium/Observer poll found that 57% of likely voters, including 30% of Labour voters, did not think Corbyn would be in charge come the next general election in 2020.
Despite the negative press and low polls, Jabar is adamant that he is loved by all those in his local constituency and that he will continue to stick to his principles.
"Everybody likes him and when they see the pictures [on the wall] they say, 'we love Jeremy, we are very happy'," says Jabbar.
"He can be prime minister, he can be anything. You have to fight and Jeremy is going to do his job. If he wins, if he loses, he'll keep helping people. He's not going to change," he adds.
Despite the negative press and low polls, expect Corbyn to stick around. In a recent interview with the Sunday Times he defiantly declared, "I'm not going anywhere". No one will be more delighted with the news than Jabar and his customers in Finsbury Park.
© Copyright IBTimes 2023. All rights reserved.