Jeremy Corbyn, the veteran left-wing MP, has been elected leader of the UK Labour Party with the support of 60% of party members. The victory of the anti-austerity North Islington MP, announced on 12 September, won in the first round of voting, securing the support of 59.5% of party members, with 251,417 votes.
Leadership rival and shadow cabinet minister Andy Burnham coming second with 19% (80,462 votes), and former Secretary of State for Work and Pensions Yvette Cooper third with 17% (71,928 votes). Blairite Liz Kendall trailed a distant fourth, winning the support of only 4.5% of Labour members with 18,857 votes.
Addressing the conference, Corbyn thanked the thousands of new party members who had voted for him, and pledged to oppose the Tory government's austerity policies.
"The Tories have used the economic crisis to impose a terrible burden on the poor. It is not right, and it has got to change. You must tackle grotesque levels of inequality. We need an economic policy to deal with that," said Corbyn.
He said that he would create a "more inclusive, more involved, and more democratic", Labour party. "It will shape the future for everyone, thank you in advance to everyone working together. Poverty does not have to be inevitable. Things can, and they will, change," said Corbyn.
Corbyn pledged support for the tens of thousands of refugees fleeing to Europe to escape conflict.
"People understand that those fleeing from wars are victims. They are human beings, just like you and me. Let us deal with the refugee crisis humanely. Going to war creates a legacy of bitterness. We cannot go on like this, with grotesque levels of inequality and poverty. We are one world. Let that message go out today," said Corbyn.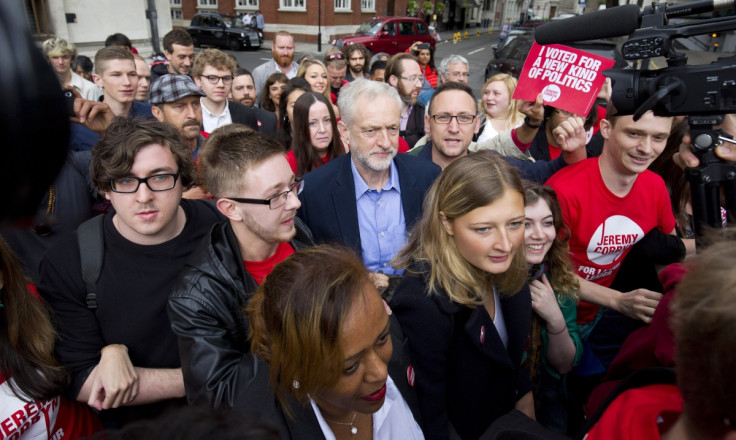 Corbyn also praised the unions and attacked the press, and said members of his family had suffered "appalling levels of abuse from some of the media in past months."
The 66-year-old praised his fellow leadership contenders, amid concerns in the party that Corbyn's victory could cause a rift between Blairites and part's left. Burnham previously announced that he would not serve in a Corbyn shadow cabinet unless Corbyn revises his opposition to Nato and the European Union.
Ed Miliband, who stepped down as Labour leader after the party's crushing defeat in the last general election ruled joining Corbyn's shadow cabinet, and called for Labour's new leader to unify the party.
"I'll be offering Jeremy Corbyn my support. I hope also that Jeremy Corbyn reaches out to all parts of the party because he has a big job to do to unite the party," said Miliband in an interview outside his north London home.
"Jeremy has won a very clear victory in all sections. I believe we should respect that mandate."
The result after a turbulent three-month campaign is one of the biggest upsets in postwar British politics, with Corbyn a 200-1 outsider at the outset. The campaign has galvanised the party, with party membership swelling to more than 500,00 as thousands paid £3 to become a registered supporter under new rules. However, Blairite members of that Labour could face electoral oblivion under Corbyn.
Watson elected deputy
Tom Watson MP was elected Deputy Leader of the party, winning the support of 50.7% of party members, or 198,962 votes, and called on the party to back its new leader "100%".
"People are sick of the old way of doing politics. They want a new way of doing things. Let Tories assume they are weak. Labour will unleash the power of hope," said Watson. "To all those Tories sniggering, 'Watch this space.'"
In the wake of the victory, Shadow Health Secretary Labour Reed announced his resignation on Twitter, saying in his resignation letter that Corbyn's victory would make it more difficult for Labour to be elected.