Video footage has emerged of what is believed to be masked Israeli police beating a Palestinian youth in the east Jerusalem neighbourhood of Shuafat, where murdered teenager Mohamed Abu Khdeir lived.
Two men wearing riot gear repeatedly kick and beat a man lying on the ground. Two released videos show the same incident but from separate angles.
The men then proceed to drag the unidentified victim by the arms and lift him into the road before shots are heard.
The men, wearing black masks, are joined by a third person who helps to carry the beaten man before they converge with a group of plain clothed men.
Tensions in the contested Israeli capital are running high as thousands attended the funeral procession of Khdeir with a large deployment of Israeli security forces present.
The 16-year-old teenager was abducted outside his father's shop this week before his burned body was found in a forest hours later. The attack is a suspected "revenge" attack for the murder of three Israeli teenagers kidnapped while hitchhiking in the West Bank two weeks ago.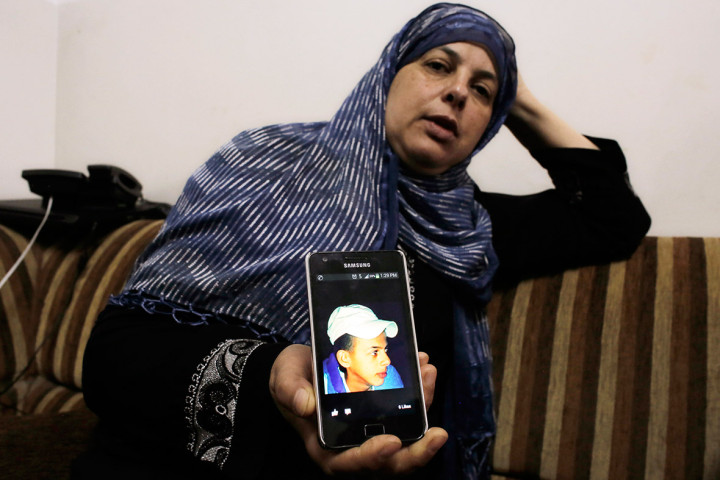 Mourners chanted "with our souls and our blood, we will redeem you martyr" as Khdeir's body was carried through the same Shuafat neighbourhood where the footage of Israeli police brutality was filmed.
The murder has led to clashes and calls for revenge attacks on both sides as the holy month of Ramadan entered its first Friday.
However, US Secretary of State John Kerry condemned the suspected revenge killing as "sickening" as well as a number of Israelis, including the families of the kidnapped and murder Israeli teenagers.
"If the Arab youth was murdered because of nationalistic motives, then this is a horrible and horrendous act," the statement from the family of Naftali Frenkel, kidnapped and murdered in the West Bank, said.
Khdeir's funeral comes as Israel and Hamas continue to trade blows between southern Israel and the Gaza Strip.
Despite the unrest, a ceasefire is set to be declared between Israel and Hamas after Egyptian intelligence officials brokered talks between the two.
It is believed that Hamas has offered to stop its rocket attacks if Israel halts its aerial bombardment of the Gaza Strip. Israel is yet to comment on the potential of a ceasefire.