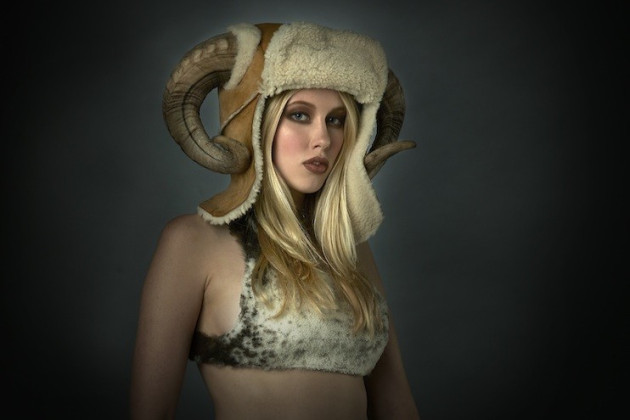 Controversial British fashion designer Jess Eaton unveiled new pieces from her Roadkill Couture collection at the White Gallery in London on Sunday 19 May.
Her designs have included garments and hats made from cat fur, alpaca, seagull and goose feathers - and even a human ribcage.
This unusual collection is now available for the public to see for the first time at the White Gallery in London's Battersea Park.
Eaton said: "My exhibit draws inspiration from a range of dark and dramatic romantics like Tim Burton and Scarlett O'Hara and I have a spectacular centrepiece planned as a big surprise for visitors."
Roadkill Couture comprises garments created out of the pelts, feathers and bones of animals that have been killed and eaten as food, have been accidentally killed on the roads, that have died of natural causes or been culled as pests.
The designer's early work included a cape made from squirrels, a rat fur jacket and a hat featuring the ears of a horse.
On Eaton's website, she describes her collection as a "giving a second life to things of wonder and beauty when they would normally perish or simply be thrown away or discarded.
"The animals used have been found by ourselves, donated by friends, family or pest control or bought at the butcher and we have processed each and every one ourselves.
"Roadkill Couture has a very strong ethical code and absolutely no animal was, or ever will be harmed or killed for the making of the collection."
Kate Moss famously modelled Eaton's designs, which were made from domestic animals and human bones.
Some commentators disagree with Eaton's claims, and maintain it continues the use of animals for fashion, most of which will be killed specifically for this use.
Writing for The Guardian's Green Living Blog in 2011, environmental journalist Sarah Lewis-Hammond disputes Eaton's "celebratory" intentions, arguing the experience of wearing a dead animal is "little more than a sartorial up-yours to creatures we humans claim dominion over."
Groups such as Peta condemn the practice of using animals in fashion, while The Vegetarian Society sits on the fence.
"Some vegetarians will believe you're showing the animal disrespect and encouraging the culture of use of animal flesh which will lead to the abuse of living animals," Liz O'Neil, the society's spokeswoman told the Guardian.
"Others will think you're being responsible and valuing what the animal has left behind."
Eaton responds by saying: "I never, ever kill animals for our designs and we wouldn't accept anything that has been killed for the purpose of turning it into a fashion item. What I do is take these animals, once their natural lives are over and give them an endless afterlife.
"We eat the meat from animals every day and then we throw away their bones and fur - it's all just waste.
"But when I take these parts of a dead animal and turn them into beautiful pieces of clothing that can be enjoyed for many years to come, it makes people question their feelings about what's acceptable."
The exhibition will run from 19-21 May at Battersea Park, London.