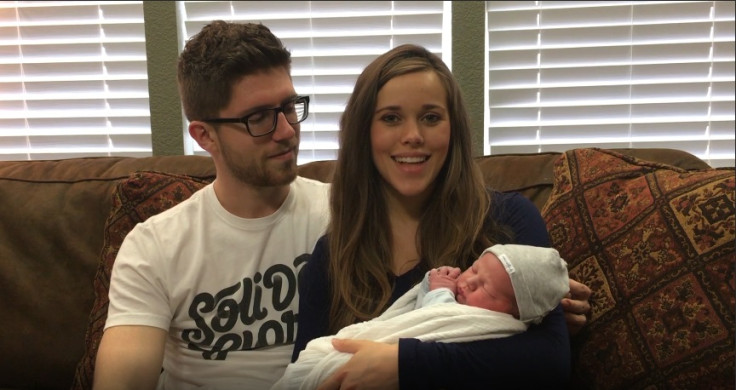 Jessa Duggar and husband Ben Seewald have finally revealed the name of their newborn son and this time they've chosen an easy name. The couple, who introduced their second baby a couple of days earlier, have named him Henry Wilberforce Seewald.
The name, according to Ben and Jessa, has been inspired from Matthew Henry and William Wilberforce. "William Wilberforce was a British politician in the 1700s ... he was instrumental in abolishing the slave trade. He's a real hero of ours. Someone that really walked with God," Ben explains the meaning behind his second baby's name in a video posted on TLC's website.
Apart from the historical significance of the name, the father-of-two said he had his wife's approval for the name. "Jess really liked the name Henry. We just thought it was cute, but also there was another great man of God name Matthew Henry who lived before Wilberforce and he wrote a lot of great commentaries," he added.
The Counting On stars have a 15-month-old son whom they've named Spurgeon Elliot Seewald. However, their unique baby names became a subject of discussion on social media. "Jessa & Ben from 19 kids and Counting named their 2nd son "Henry Wilberforce" and their first son is "Spurgeon Elliot" what is wrong with them," a Twitter user wrote.
There were positive responses too for the former 19 Kids And Counting star's baby name. "Jessa Seewald I think "Henry Wilberforce" is such a sweet name for that adorable son of yours," a user wrote.
The couple welcomed their second child on 6 February and introduced him to their fans through a special video announcement but revealed they were still searching for a name. "This baby's probably gonna have a unique name, sort of like Spurgeon's. But we haven't quite settled on a name yet. We've got some pretty good ideas," Ben said in the TLC video.