Jessica Alba celebrates her 35th birthday today (28 April 2016) marking a mini milestone for the actress. Although she was once known merely as Hollywood's darling, Alba has transformed herself into a fully-fledged businesswoman with a successful company. With business booming and a great family life with husband Cash Warren and daughters Honor and Haven, the Dark Angel star has certainly come a long way.
The California native rose to prominence starring in acclaimed TV series Dark Angel for two years until 2002. From then on, Alba hardly struggled to land acting jobs with a string of high-profile film roles to her name. In 2003, Alba came into her own on the big screen starring in dance drama Honey before standing alongside heavyweights Bruce Willis and Mickey Rourke in 2005's Sin City.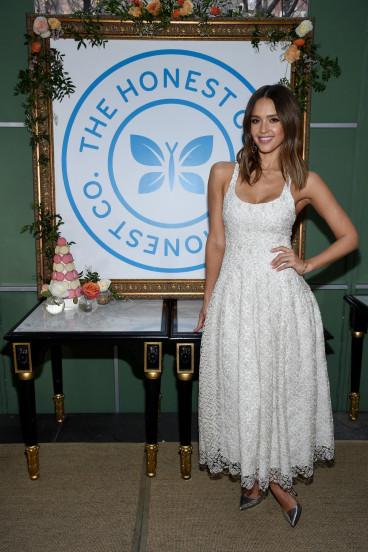 In the same action vein, Alba appeared in Fantastic Four before moving on to romcoms with subsequent roles in Good Luck Chuck, Little Fockers and Valentine's Day. Proving her versatility, Alba also began taking on grittier roles in a number of thrillers including The Eye, Awake and The Veil which was released to Netflix in January 2016.
Clearly itching to expand her portfolio and perhaps realising the fickle nature of the movie industry, Alba co-founded The Honest Company in 2012 with Chris Gavigan. The company sells a range of body, baby and household products which it promises are toxin-free. Proving herself to be rather business-savvy, Alba's company was valued at $1.7bn (£1.16bn) in August 2015 which was undoubtedly an incredibly triumphant landmark for the film star.
The Honest Company may never have happened if Alba had listened to the critics. Speaking about her business aspirations outside of movies, the actress said during a conference in 2015: "[People] usually thought of someone in my position as more of a spokesperson, someone that would sell beauty products. Most of my advisers in entertainment thought I should do a perfume or something like that."
Being an actress and businesswoman are not the only roles Alba has to juggle, with family life also thrown into the mix. One wonders how she achieves a balanced life in all areas. In her own words, Alba revealed her secret at the Alibaba Global Conference On Women And Entrepreneurship in China, explaining: "I feel pulled in so many different direction. It's so hard to find time for yourself, time to meditate and relax. I think it is so important to spend those five minutes a day to just quiet your mind, but I don't always have those five minutes or just can't manage it."
Jessica Alba, you are a wonder woman indeed. Happy 35th birthday!