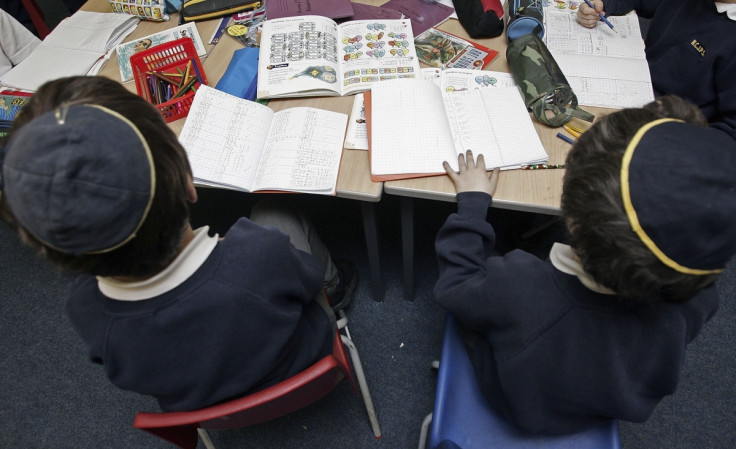 Religious extremists are grooming Jewish children on social media, telling them to abandon their "liberal" schools and join an anti-Muslim sect of Judaism. Headteachers at several of London's most prestigious private schools this week warned that pupils as young as 11 were being targeted by the radicals.
Youngsters have been harassed on the phone with extremists demanding they meet face-to-face, threatening to come to their school gates if they refused. Police are investigating after parents became increasingly concerned their children were at risk of being groomed.
Pupils are typically contacted by individuals posing as teenagers who claim to be part of an "outreach project", saying they have been instructed to recruit "a network of young people". Specifically targeting Jewish children, they often befriend them on Facebook by pretending to know one of their classmates.
The conversations then move on to discuss religion, urging youngsters to view Jewish extremist videos and denounce "anti-Jewish" British values. They also attempt to lure them into meeting the group's activists to discuss becoming a "volunteer". They send threatening messages if the kids refuse.
One exchange with a pupil at a private London secondary school, seen by IBTimes UK, shows one of the sect's members complain they should be attending a Jewish school, saying: "[Your school] is for n*****s and Muslims." They go on to demand to meet face-to-face and threaten to wait at their school gates, adding: "If you think I'm joking, think again ... I've done this before with other kids."
Another pupil said they had been repeatedly contacted on their mobile phone after being targeted on Facebook, while one mother said she had resorted to calling the police after numerous attempts were made to groom her son. Several other youngsters have spoken of being asked to view "nasty" and "disgusting" extremist propaganda after being befriended on social media by the group.
IBTimes UK has learnt children, particularly between the ages of 11 and 15, have been targeted over the past month at several schools in Camden, Brent and Hertfordshire, including the £18,000-a-year Haberdasher's Aske's in Elstree and the Jewish Free School (JFS) in Kenton - the UK's largest Jewish school.
Headteachers at University College School (UCS) in Hampstead, Immanuel College in Bushey, and South Hampstead High School in Hampstead have also sent out warning letters.
One letter sent to parents by the deputy head of South Hampstead High School said: "I have been informed that an individual has been befriending young people in north London on Facebook and possibly on other forms of social media.
"It seems that he sends friend requests to young people posing as a teenager and then asks them questions about their religion with the ultimate aim of recruiting them to a niche religious group.
"The police and Community Security Trust (CST) have been informed. Unfortunately many teenagers are quick to accept friend requests from people they do not know and have never met, even though they have been taught many times in school not to do so."
Another letter, from Immanuel College, says: "This individual appears to have befriended a significant number of students in the past few weeks and, in the two cases brought to my attention, has taken a significant interest in their religion. Please could you speak to your children this evening, warning them of this profile."
It is not yet known who or how many people are behind the campaign. One chat log seen by IBTimes UK sees an extremist claim to part of a network of individuals, giving names of four other volunteers. They claim there are "many more" involved and that the group has just started a social media campaign to spread its extremist message among secular Jews in the UK.
Targeted using fake Facebook accounts
One Facebook account targeting children uses the name Mark Shipley, using a photograph of a teenager called Kieran Crump Raiswell – an 18-year-old from Charlton who was murdered in 2013 – as its profile picture. Another account, now shut down, went under the name of Avi Gordon. Both profiles have forwarded identical mobile numbers to children when asking to speak over the phone.
Shipley's Facebook page, which remains active, also includes a link to a campaign group – "Hashem loves all JFS kids" – which specifically targets pupils at JFS. It tells them to abandon their school and "free themselves from the materialistic, selfish, pleasure lifestyle that the school instills with them". It also calls for Jewish children to rally against "anti-Jewish" British values, adding: "We will not rest until every kid from JFS leaves that liberal anti-Jewish school."
The group directs visitors to what it claims is its homepage – a website run by Yosef Mizrachi, a controversial rabbi based in New York. Mizrachi, the founder of an ultra-Orthodox Jewish outreach programme called the Kiruv Organisation, prompted protests during his first speaking tour of the UK in 2014 after he had said Down's Syndrome and autism were the consequences of sins committed in a previous life.
He also argued Ashkenazi Jews had brought the Holocaust upon themselves and contested the number of Jews killed in Nazi concentration camps – a claim for which he has since apologised. His UK tour saw him deliver lectures in a number of Jewish secondary schools and several synagogues in London.
Mizrachi, who claims to have amassed a following of 100,000 Jews, failed to respond to requests by IBTimes UK for comment. There is no suggestion he had any knowledge of, or condoned, the recent contact with schoolchildren in London.
The CST, a charity responsible for the safety of Jewish community in the UK, confirmed it was contacted about the matter last week. A spokesman told IBTimes UK: "This is a pretty uncommon incident but it's a reminder for the Jewish community it needs to take their online security seriously."
Attempts by IBTimes UK to contact those behind the Mark Shipley profile were not successful.
More from IBTimes UK