A reporter at a local British newspaper received a mystery call urging him to contact the US embassy for "some big news" minutes before the assassination of John F Kennedy.
An internal FBI memo about a phone call to the Cambridge News 25 minutes before the assassination of the US president, is one of the most astonishing revelations from the JFK files, released yesterday (26 October).
The document, from the deputy director of the FBI James Angleton to the director J Edgar Hoover, said: "The British Security Service (MI-5) has reported that at 1805 GMT on 22 November an anonymous telephone call was made in Cambridge, England, to the senior reporter of the Cambridge News.
"The caller said only that the Cambridge News reporter should call the American Embassy in London for some big news and then hung up."
Kennedy was shot as he rode in an open-topped car in a presidential motorcade in Dealey Plaza, Dallas, at 12:30 Central Standard Time, which is six hours behind Greenwich Mean Time.
The memo, which was sent four days after the shooting, continued: "After the word of the President's death was received the reporter informed the Cambridge police of the anonymous call and the police informed MI5.
"The important point is that the call was made, according to MI5 calculations, about 25 minutes before the President was shot.
"The Cambridge reporter had never received a call of this kind before and MI5 state that he is known to them as a sound and loyal person with no security record."
But a spokesman for the Cambridge News told IBTimes.co.uk the paper did not know who took the call and have no record of it every being made. However, it added it was speaking to former staff who worked at the title in the 1960s to establish if such a tip-off came into their offices.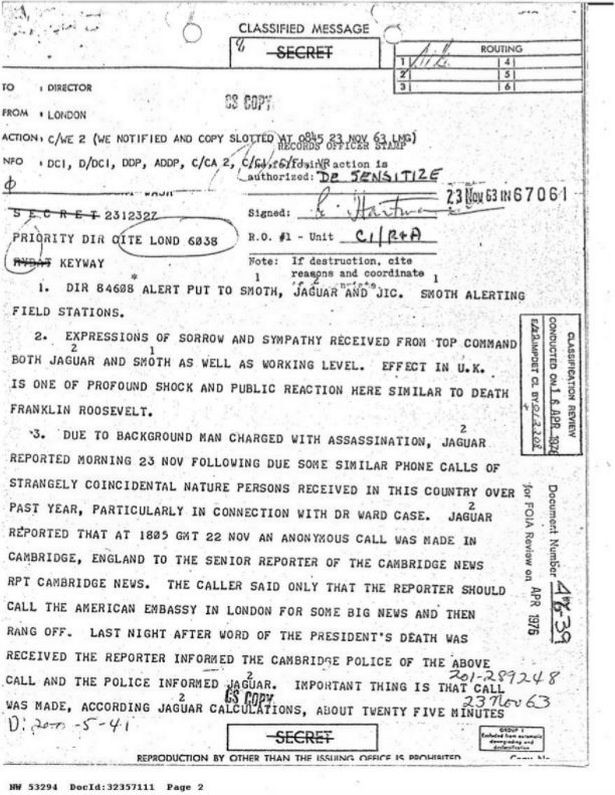 The paper was approached by London solicitor Michael Eddowes in 1981, who said he had a copy of the FBI memo.
Eddowes, who researched theories about the killing, was convinced the caller was a British-born Soviet agent, Albert Osborne – who two months before the killing had been with Lee Harvey Oswald, the man charged with murdering Kennedy.
Eddowes, who died in 1992, said the call was made as part the Soviet Union's efforts to paint the assassination as a conspiracy. The Cambridge News may have been chosen because it had closely-followed the 1960s Cambridge spy-ring stories at the time.
A spokesman for the newspaper said: "With the passage of time, it is possible it will never be known whether the call was made, by whom it was made, and who, if anyone, on our staff received it."
A copy of the memo, dated 26 November 1963, was published by the US National Archives in July, but this had gone unreported until the latest batch of documents relating to the Kennedy assassination were released on Thursday evening.