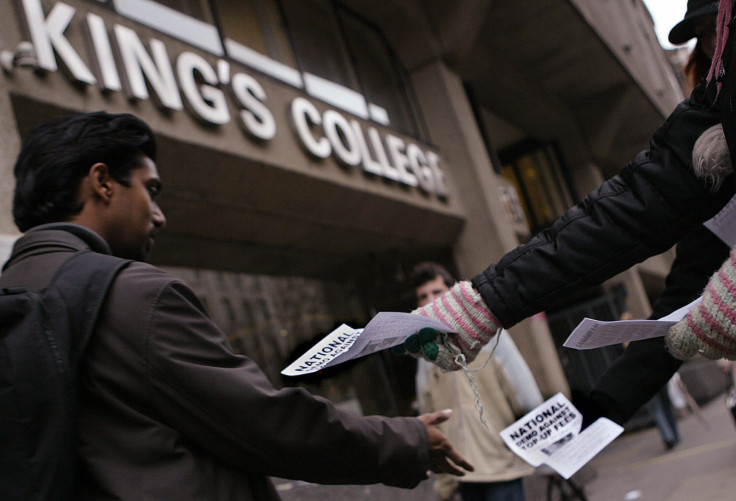 Students have taken aim at King's College London after it was revealed that they were employing "safe space marshals" to patrol events that could cause controversy.
A job advert on the university's student union website is offering £11.89 and hour, or £13.32 if holiday pay is included, for someone to patrol and monitor events which "have been risk assessed as having potential for a Safe Space breech [sic]."
It comes after the posting was mocked by some when the marshals were deployed to oversee a talk being given by the Conservative MP Jacob Rees Mogg on 18 October.
One student who was unsure about the need for the marshals was Jack Emsley, editor of The 1828, the Conservative Association Journal who said on Facebook: "Massive thanks to KCLSU for providing a fantastic safe space yesterday!
"I know that without the five Safe Space Marshals working tirelessly, I definitely couldn't have listened to Jacob Rees-Mogg without having my feelings seriously hurt. Definitely not a waste of paper, manpower or our money!"
The monitors, according to the job description, are expected to place posters around the event space and university explaining what "safe space" is, as well as reminding people at talks that they are being monitored by the marshals.
A King's College London spokesman told the MailOnline: "Universities have a unique challenge to create environments in which open and uncensored debate from all sides on issues of political, scientific, moral, ethical and religious significance can take place without fear of intimidation and within the framework of the law.
"We are proud of our diverse community and are absolutely committed to academic freedom and free, peaceful and respectful dialogue where people have conflicting views."
The scheme, which enables monitors to eject attendees and even speakers, was launched in 2015, but has only just come to light now.
Standing by the scheme President of King's College London Students' Union, Momin Saqib said: "By having exposure to different and diverse viewpoints students have a more enriching experience.
"Our Safe Space Policy was agreed by students in 2013 and again in 2015. It is essentially an anti-harassment policy protecting both our students and the speakers they invite. KCLSU has never banned a speaker from speaking because of our safe space policy."
It comes after the universities minister, Jo Johnson, warned that colleges and institutions could be blacklisted if freedoms of speech were throttled.
He said: "Free speech is one of the foundations on which our higher education tradition is built. It goes to the heart of our democratic values and is a principle I know universities hold dear.
"I know there is good practice out there, and am proud that some of our university leaders and academics have publicly defended free speech. But there are still examples of censorship where groups have sought to stifle those who do not agree with them.