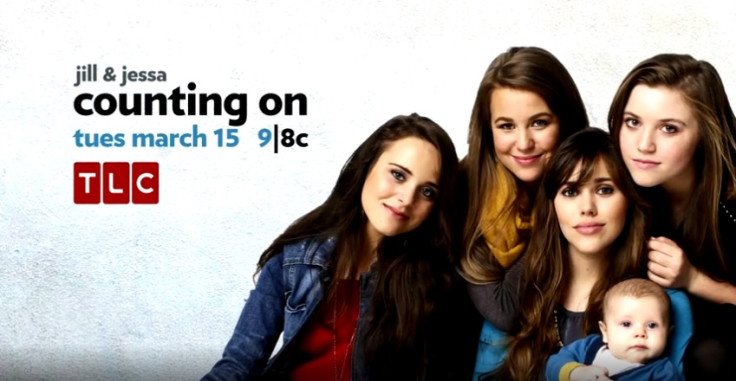 Jill and Jessa Counting On is coming back to TLC with a full season and this time apart from Jill Dillard and Jessa Seewald, all other Duggar daughters will share considerable camera space along with the other members of the family.
TLC has released a promo of the new series, which is scheduled to premiere in the second week of March. The series description of Counting On refers to the Josh Duggar scandal as the "down" of the Duggar family and the birth of the two babies, Israel and Spurgeon, as the "ups". The siblings of the evangelical Christian family can be seen spending some happy moments with each other.
"After a year of ups and downs, the Duggar family is on its way to finding a new normal," reads the synopsis. The show will see the return of Jessa, her husband Ben Seewald and 3-month-old son Spurgeon. Jill and Derick Dillard and 10-month-old Israel will also feature in the reality TV show, though they were missing from the promo. The couple are working for their missionary in El Salvatore in Central America.
The other Duggar siblings — Jana, Jinger, Joy Anna, John David, Josiah and Joseph — also appear in the promo, hinting that they have a major share of the camera time. However, Jim Bob and Michelle Duggar remained missing from the promo. It is not yet clear whether they will make an appearance in the 19 Kids and Counting spin-off or not.
After the Josh cheating and sexual molestation scandal, the parents of the famous family were under fire for not giving proper counselling to a teen Josh after he assaulted his own sisters. The family was severely criticised by fans and critics, and later their reality show was cancelled by TLC.
However, the relationship between the network and the family remained intact as the network produced two documentaries in collaboration with the Duggars. Since the last couple of months, speculations were high that cameras are rolling around the former 19 Kids and Counting stars.
Fans are expecting to see more of Josh's heartbroken wife Anna, who is raising her four children while her husband remains in rehab. The new season of Jill and Jessa Counting On will premiere on TLC on 15 March.