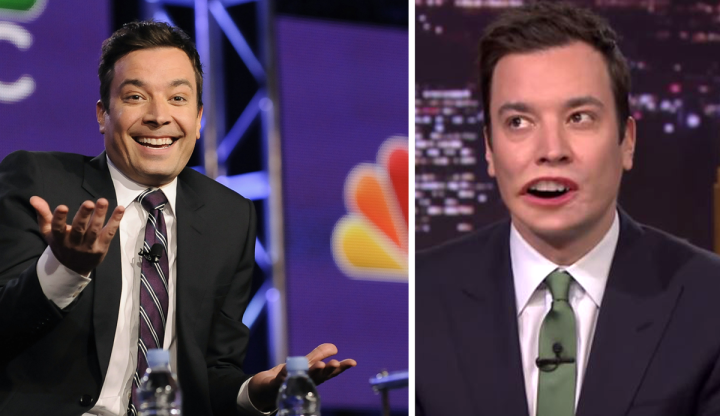 The Tonight Show's Jimmy Fallon turns 40 today (19 September), just another milestone in a year that has seen the stand-up-turned-chat show host take over NBC's coveted Tonight Show from Jay Leno.
Along with presenting duties on The Tonight Show, audiences will likely be familiar with Fallon either from viral videos or his time on US sketch show Saturday Night Live.
In just seven months since his first appearance, The Tonight Show has provided some hilarious moments as Fallon's popularity among US celebrities pays dividends with sketches, questions and games few others would have been able to get away with.
Here are ten of his funniest skits from The Tonight Show...
---
On his first show, Fallon made reference to a friend of his who bet $100 that he'd never host the famous talk show. After telling his friend that they owned him, then out came Robert De Niro with $100, followed by Tina Fey, Joe Namath, former New York mayor Rudy Giuliani, Mariah Carey and so on for four whole minutes.
A recurring segment on The Tonight Show sees Fallon and his team turn NBC news reader Brian Williams into a rapper using archive footage.
Another recurring segment sees Fallon compete with celebrities in a lip-sync battle. Funny, sure, but also a reason to get Paul Rudd (<3) in here somehow.
One of the stranger talk show segments you're likely to see anywhere. Here Fallon plays beer (or rather red wine) pong with actress Diane Keaton, who is determined to not play along and just annoy Fallon instead.
Actually scratch that, this is one of the weirdest talk show segments you'll ever see.
Here Fallon interviews "Harry Styles".
Maybe this just appeals to the 13-year-old me who couldn't escape this song but here Fallon and a barbershop quartet sing R-Kelly's Ignition (Remix).
After years of people telling both comedian Will Ferrell and Red Hot Chili Peppers drummer Chad Smith that they look identical, the pair finally decided to hold a drum-off. The results are spectacular and unexpected.
Here he plays a game of Box of Lies with actress Jennifer Lawrence.
Oh, and finally here's Morgan Freeman on helium.