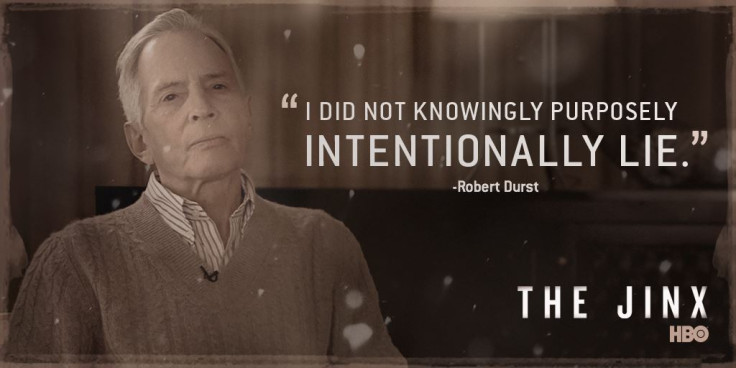 HBO's true-crime docuseries titled The Jinx: The Life and Deaths of Robert Durst, shocked viewers in the finale, when New York real estate heir Robert Durst admitted his guilt in three murders for which he was suspected, but never convicted.
The New York real estate tycoon was arrested in New Orleans, even before the final episode could be aired.
You can watch all the episodes of the docuseries The Jinx: The Life and Deaths of Robert Durst online here.
Though Durst was a suspect in the murder of his close friend and writer Susan Berman in 2000 and his wife Kathie Durst's disappearance in 1982, he was never convicted.
He was also investigated for killing and dismembering his neighbour Morris Black, to which the real estate baron admitted, but claimed that he did so in self-defence and was acquitted.
The Los Angeles County D.A. has now reopened the murder investigation into his role in the death of Berman, who was killed around Christmas in 2000 and have arrested him held him on a first-degree warrant.
Meanwhile, on the show, director Andrew Jarecki asked the 71-year-old to identify two letters that were written in similar handwritings. Jarecki said: "Can you tell me which one you didn't write?" To which Durst answered "No".
Jarecki had obtained a letter written by Durst to Berman and an anonymous letter written to the police during the investigation of Berman's murder.
Forensic handwriting experts concluded that both the notes were written by the same person, but the real estate heir during investigations had told police that he could not identify the letters, according to the Hollywood Reporter.
However, before answering further questions during the finale episode, Durst took a bathroom break and apparently forgot to remove his microphone.
While in the bathroom he murmured to himself, "There is it. You're caught. You're right, of course. But, you can't imagine. Arrest him. I don't know what's in the house. Oh, I want this. What a disaster. He was right. I was wrong. And the burping [Durst burped multiple times during the interview]. I'm having difficulty with the question. What the hell did I do? Killed them all, of course."
The show then ended, with elaborating anything about Durst's arrest on Saturday.
Below are some twitter reactions to the shocking finale of The Jinx: The Life and Deaths of Robert Durst.
I think he's guilty, but at the same time I never want to be held accountable for anything I say in the bathroom. #TheJinx

— Sarah Walker (@swalks) March 16, 2015
Watching #TheJinx: I knew it. Bob Durst has snake-eyes. Never trust anyone with snake-eyes. — mistressmatisse (@mistressmatisse) March 16, 2015
omg #TheJinx GOD BLESS ANDREW JARECKI and please tell me you have been working on a Bill Cosby documentary for the past two years.

— Diane Farr (@GetDianeFarr) March 16, 2015
I want #TheJinx to do a followup of his trial and subsequent conviction, unless he pays off someone. That #Durst is a piece of work. Psycho! — Jules (@GlazeDaisyGlaze) March 16, 2015
#TheJinx Motion to exclude motive evidence re: Kathy's disappearance as too prejudicial, and to exclude shaky "hot mic" confession. Boom!

— Violet Skyye (@Violetskyye) March 16, 2015