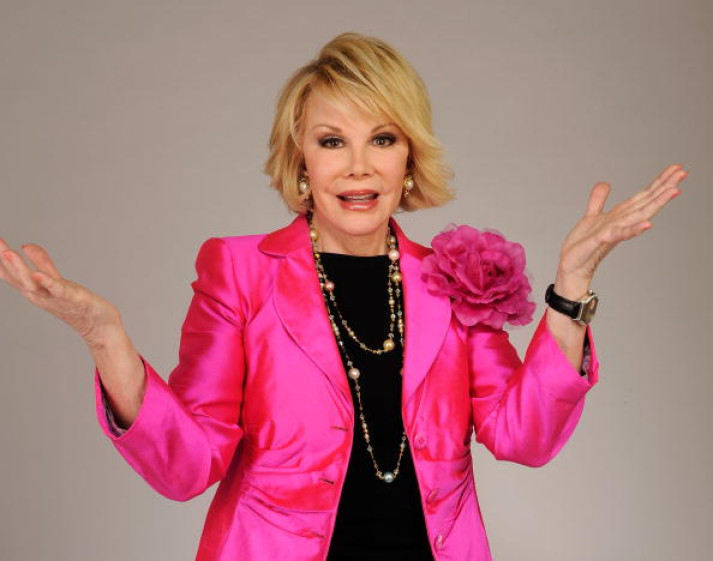 Fashion Police host, Joan Rivers, died today aged 81, her daughter has confirmed.
"She passed peacefully at 1:17 p.m. surrounded by family and close friends. My son and I would like to thank the doctors, nurses, and staff of Mount Sinai Hospital for the amazing care they provided for my mother," said her daughter, Melissa Rivers in a statement to ABC News.
Joan was admitted to the Mount Sinai Hospital last Thursday, where it was determined that she had suffered cardiac arrest and a subsequent stroke.
She was later placed on life support.
Celebrities have poured in condolences on Twitter following the news.
My friend Joan Rivers has passed away once again to quote Billy Crystal... There are no words. Bon Voyage Joan

— Whoopi Goldberg (@WhoopiGoldberg) September 4, 2014
We've lost a true legend today and an amazing woman - a pioneer. She opened up the arena for women in comedy.... — Sharon Osbourne (@MrsSOsbourne) September 4, 2014
Love Her or Hate Her, we're gonna Miss JOAN RIVERS! I always Respected her go for broke humor. One of a kind.R.I.P.

— Samuel L. Jackson (@SamuelLJackson) September 4, 2014
And in addition to being a trailblazer the great Joan always smelled good.Thanks for taking my challenge. I still owe you one. RIP x,sj — Sarah Jessica Parker (@SJP) September 4, 2014
Joan Rivers @Joan_Rivers was an amazing woman and a great friend. Her energy and talent were boundless. She will be greatly missed.

— Donald J. Trump (@realDonaldTrump) September 4, 2014
.@Joan_Rivers was a dear & wonderful friend who I've known for 45yrs. Great guest, pal, comedian & mother. We will never see her likes again — Larry King (@kingsthings) September 4, 2014
I'll miss my good friend & fellow Barnard grad Joan Rivers-Greatly admired her comedic genius. Pls remember her w/ me http://t.co/VILWl7ZGUE

— Martha Stewart (@MarthaStewart) September 4, 2014
we lost a great one in @Joan_Rivers - she was funny all the way to the end — Jimmy Kimmel (@jimmykimmel) September 4, 2014
RIP, #JoanRivers.... What a spirited force, trailblazer and beacon for all things funny. Such a loss.

— Mandy Moore (@TheMandyMoore) September 4, 2014
RIP #JoanRivers - a trail blazing force in comedy who never suffered fools & wasn't shy about speaking her mind. Condolences to loved ones — Orlando Jones (@TheOrlandoJones) September 4, 2014
My thoughts & prayers are with the great #JoanRivers & her family. Joan-we can't wait to hear your jokes about this when you recover! xx

— Ivanka Trump (@IvankaTrump) August 31, 2014
Rest In Peace to the amazing Joan Rivers. very very sad news pic.twitter.com/pU1KcbPnFP — Kendall Jenner (@KendallJenner) September 4, 2014
Joan Rivers will always be a pioneer. She paved the way for a lot of comedians. I'm very sad she's gone. pic.twitter.com/i1uE9fyHMh

— Ellen DeGeneres (@TheEllenShow) September 4, 2014
RIP the mighty Joan Rivers. Funny & fearless. Truly one of a kind. — Ricky Gervais (@rickygervais) September 4, 2014
A legend, a friend, a mentor, an icon, and wildly funny. One of a kind. RIP #JoanRivers @joan_rivers pic.twitter.com/jnAC5G4AQo

— Kathy Griffin (@kathygriffin) September 4, 2014