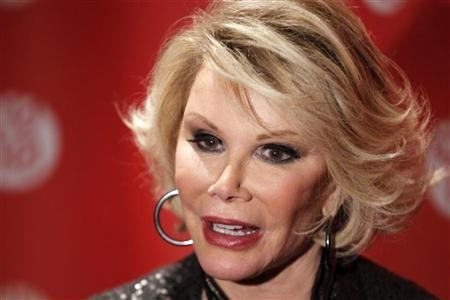 Tweeters have joined a growing backlash against veteran comedian Joan Rivers for her mocking of Kim Kardashian and Kanye West's seven-month-old daughter.
The controversial 80-year-old outraged fans and was accused of bullying when she jeered at baby North West during a stand-up at the Saban Theatre in Los Angeles.
Rivers told the audience that she had met the famous baby when the Keeping up with the Kardashians star took her into the offices of the E! television network, where she hosts Fashion Police.
"That baby is ugly. I've never seen a six-month-old so desperately in need of a waxing," Rivers told the crowd according to RadarOnline.com.
While some fans doubled over in laughter, others were not amused.
In February 2013, the Jewish funny woman raised eyebrows when she compared supermodel Heidi Klum to a Nazi.
Commenting on the low-cut gold dress worn by the German-born star to Elton John's Aids Foundation Academy Awards viewing party Rivers said: "The last time a German looked this hot was when they were pushing Jews into the ovens."
Despite the fierce backlash and criticism from Jewish pressure group, the Anti-Defamation League (ADL), Rivers refused to apologise and insisted that comedy helped to maintain public awareness of the Holocaust.
"My husband lost the majority of his family at Auschwitz, and I can assure you that I have always made it a point to remind people of the Holocaust through humour," she said at the time.
Rivers' North comments came after some fans accused Kardashian of grooming her baby's eyebrows "to perfection".