Fresh Doubt over David Cameron's 1 Million New UK Private Sector Jobs Claim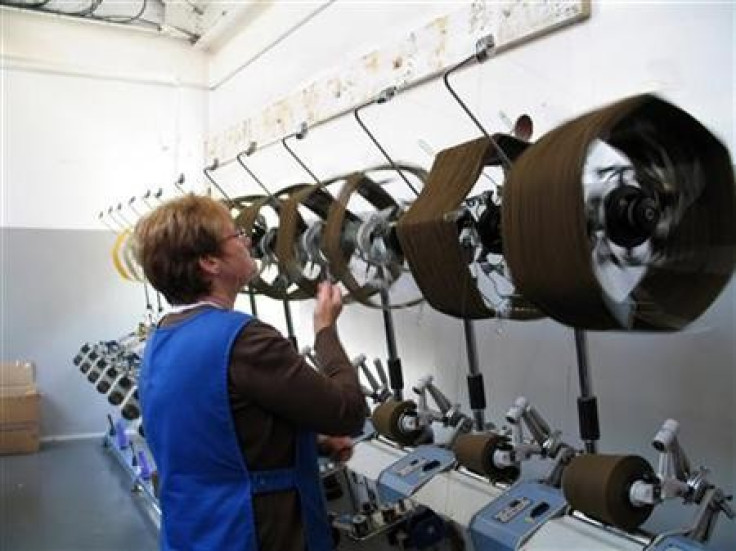 Fresh doubt surrounds Prime Minister David Cameron's claim that the private sector has created a million new jobs since his coalition government took power, after a new study found that fewer jobs have been created by new firms starting out after the financial crisis.
According to a new study by leading thinktank the National Institute for Economic and Social Research (NIESR) and the Government's Department for Business, Innovation and Skills (BIS), the level of job creation by existing businesses remained the same after the collapse as before.
Workplace data shows that between 2008 and 2011 there was an annual net fall of 100,000 jobs in the private sector.
NIESR said this "was the result of reduced job creation through reduced workplace entry, primarily in small and medium-sized enterprises. This is in contrast to previous experience elsewhere when recessions usually lead to an increase in job destruction."
In the years before the financial crisis, from 2004 to 2007, there was a net annual creation of 300,000 new jobs at private firms.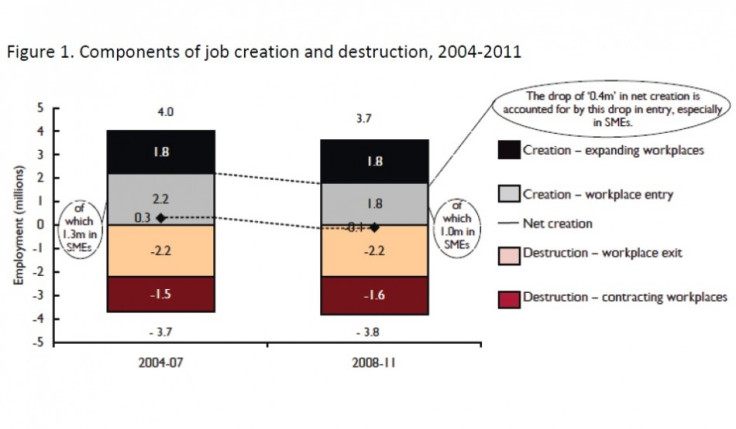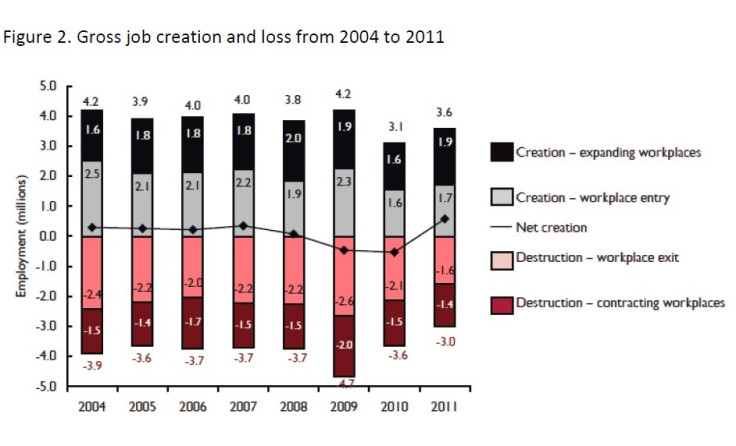 NIESR said a tightening of credit conditions for SMEs, as well as dampened confidence from the recession and an extended period of flat growth in the UK economy, could be blamed for the slowdown in new job creation.
The Government has sought to address the squeeze on SME credit through its Funding for Lending Scheme (FLS), which gives banks a financial incentive to loan out more to small firms at more affordable rates.
Britain's economy has also started to pick up, with GDP growth accelerating in the second quarter of the year. The UK grew 0.6% in the three months to June, according to preliminary data from the Office for National Statistics (ONS), doubling the previous quarter's 0.3% expansion.
There were 2.51 million people out of work in the three months to May, a rate of 7.8%. The number of people out of work for more than a year hit 915,000 during the same period, a rise of 32,000 on the year and the highest level of long-term unemployment since 1996.
Cameron has repeatedly claimed that the private sector has created a million new jobs a year since the Conservatives and Liberal Democrats took office in May 2010.
Under his Government, billions of pounds of public spending has been slashed in an austerity drive to bring public finances back in check after the previous Labour administration built up a large budget deficit.
As a result of the cuts, hundreds of thousands of public sector jobs have been lost. The Government claimed the private sector would move in and fill the void left by public spending cuts.
© Copyright IBTimes 2023. All rights reserved.