Jodie Foster has finally received a star on the Hollywood Walk Of Fame. The two-time Oscar winner who has been acting since she was just three years old, was honoured by her Panic Room co-star Kristen Stewart during the unveiling ceremony in Los Angeles on Wednesday 4 May.
While it may seem like an honour that was a long time coming given Foster's huge presence in cinema since she was so young, Foster explained during her acceptance speech that it was a "conscious decision" of hers not to have had a star yet. "I didn't want to have a star on Hollywood Boulevard unless it was in a conjunction with a movie I was directing," she explained. "I don't know why that was important to me; it seems silly, but that's why I waited all these years."
That's not to say it doesn't mean a lot to her however... "I grew up blocks from Hollywood Boulevard and would cross it every single day of my life," she said at the event. "And you do that thing where you're like, 'Will I ever be on the Walk of Fame some day?'
"It feels nostalgic and kind of emotional. It just reminds me of conversations that I had with my mom, 10 blocks from here about Hollywood Boulevard and what it represented.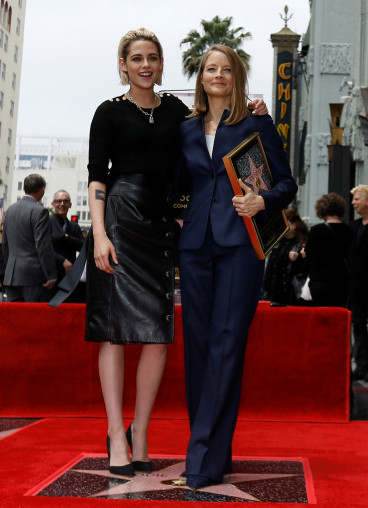 "You know she'd drive down the street and talk about the history of it. Talk about Clark Gable and all the premieres that happened at Mann's Chinese – Grauman's Chinese at the time. It's a great bit of nostalgia and I feel honored to be a part of it."
Despite appearing in many titles from when she was a toddler, it was her role in Martin Scorsese's 1976 film Taxi Driver that put her on the road to superstardom. Since then, she has featured in movies such as Bugsy Malone as well as The Accused and The Silence Of The Lambs, both earning her Academy Awards.
Having been a screen icon for many years, she made her directorial debut in 1991 with drama Little Man Tate, in which she also starred, and went on to helm comedy Home For The Holidays in 1995 and The Beaver in 2011 where she acted alongside long-time friend Mel Gibson.
Taking to the podium to honour Foster's 50-year-long career, Twilight star Stewart mentioned how the actress had "always encompassed what [she] thought was sort of the prime example of where [she] wanted to be and [that] she's been there for [her].
"She's a baller on every level. It's out of control," the 26-year-old went on to say. "She did everything young. She kicked Yale's ass. She won Oscars. She became a filmmaker herself. She created a family and still is just normal and cool and kind. She cares about people, she is quite the opposite of the type of person that is gravitated towards being an actress."
Money Monster, which stars Julia Roberts and George Clooney, and is Foster's fourth directorial work will be released in the US on 13 May following its premiere at this year's Cannes Film Festival. It will reach the UK on 27 May.
For more entertainment news follow A-List on Twitter @Alistinsider