England goalkeeper Joe Hart believes Manchester City team-mate Mario Balotelli will be a major threat in Sunday's European Championship quarter final.
Balotelli has earned a reputation for grabbing the headlines on and off the field during his football career, but will be handed the responsibility of leading the line against England in Kiev.
His teammate Hart, who has experienced first-hand the exuberant as well as the immature side of the 21 year old, has expressed worry over the influence Balotelli could have come the last eight clash, and says his duel with Wayne Rooney could be special.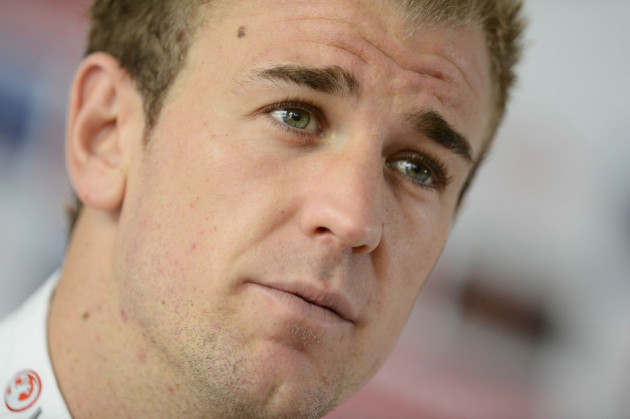 "He could be a great threat - he's a great player," Hart said. "But importantly Joleon [Lescott] knows him as well and I've seen them battle it out in training. But it will be fun and interesting to see what he brings to the game.
"He is an extravagant guy but he has broad shoulders and whatever is written about him he doesn't let affect him. He lets things slide off.
"They're two totally different guys but with immense talent and the same goal - for their team to win. Wayne is a fantastic player and Mario is an exceptional footballer too. Everyone is looking forward to seeing those two playing on Sunday."
With expectations having been dampened prior to the tournament, England have surprised many by topping the group ahead of the much favoured France, and having avoided reigning world and European champions Spain in the quarter final, optimism has return to the camp.
Despite a last-eight finish representing a decent summer for Roy Hodgson's men, who had just five weeks following his appointment to prepare his side prior to their opening game against France, Hart says the squad won't be satisfied if they fall to Italy this weekend.
"It is a great achievement. It is something we set out to do at start of the tournament," Hart added. 2First game key against France, to get the draw and follow up with two wins was a good start to the tournament.
"We're growing with each game. We started well with the right ideas and right game-plans. We've executed them well.
"Regardless of what some people thought that was nothing to do with the camp. There has been a group of people who did not think we would do well but if anyone who knew the players it is not a surprise and it is part of the plan."
"The whole point is not to keep people off our backs or not be bothered when we get home. We are here to win games and be successful for us and make English people proud of their team.
"We would like to leave here having given everything."