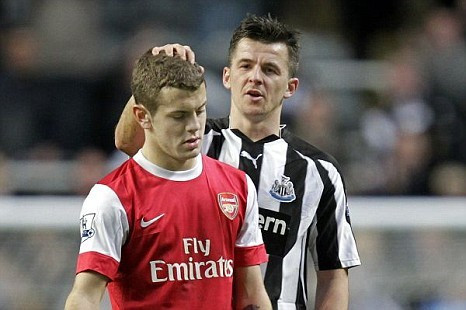 Arsenal are said to be on course to sign Newcastle midfielder Joey Barton. The England international is said to be at the top of Arsene Wenger's transfer wish list this summer in a move that could polarise opinion amongst Arsenal fans. The midfielder has previous with Arsenal but Arsene Wenger is willing to put any issues to one side in order to get his man. Arsene Wenger is looking for Joey Barton to bolster Arsenal's midfield next season, and Barton who has played the majority of the season on the right side, will give Wenger greater options in midfield.
The Northern echo has reported that no deal has been struck but Arsenal have made enquiries into the availability and how much the England midfielder would be likely to cost. Mick Quinn, an ex-Newcastle United player told Talk Sport that he could 'confirm through a third party that Arsenal had a made an enquiry' for the Newcastle midfielder.
With Arsenal looking to begin talks with Joey Barton over a possible deal, it is reported that Blackburn defender Chris Samba has issued a come and get me plea to Arsene Wenger. Reports in the Sun today say that Samba is set to tell his Blackburn bosses that he plans to quit Ewood Park and wants a move to Arsenal. Arsenals who were close to signing the defender in the January transfer window look set to table another bid. The one sticking point could be £12m price tag that Blackburn has placed on the defender due to his sell on clause from previous club Hertha Berlin.
In news that surrounds reported departures from the Emirates this summer; Barcelona has tabled another bid to land Cesc Fabregas. Barcelona have confirmed that they value the Spanish midfielder lower than they did last season and will not offer the price that Arsenal want for the midfielder. It is reported across the tabloids today that Barcelona chiefs have enquired about the player but Arsenal will not sell for less than their evaluation.
Away from the playing side at The Emirates, Arsenal could be set to lose their chief scout to London rivals Chelsea. Chelsea are reportedly chasing Steve Rowley who has a formidable reputation for identifying top young talent. Chelsea are looking to replace Frank Arnesan who left the club for Hamburg and Roman Abramovich is set to triple Rowley's wages to get their man. The Russian billionaire sees the capture of Rowley as important for the club to produce top names stars in the future rather than simply invest huge amounts of money on players like David Luiz and Fernando Torres.