John Aldridge: FSG Must Invest in New Winger and Striker
Liverpool legend John Aldridge has called on the club's owners, Fenway Sports Group, to invest in the squad over the summer in light of a poor Premier League campaign.
Kenny Dalglish travelled to Boston on Monday to deliver his end-of-season review and discuss his future with John W. Henry and Tom Werner following the final game of the season at Swansea City.
Defeat at the Liberty Stadium meant Liverpool finished the campaign in eighth position, their worst league finish for 19 seasons. Having won just 14 of their 38 fixtures the performance of Dalglish and his coaching staff has come under increased scrutiny but the Scot insisted he is going nowhere and told BBC Sport: "I expect the owners to have more dignity and integrity than to believe a story in a newspaper."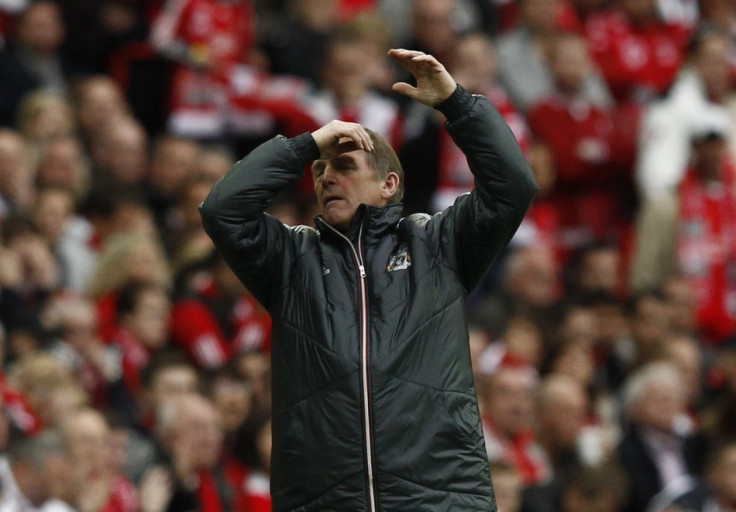 The 1-0 loss ensured Liverpool ended the season below local rivals Everton for the first time since 2005 but former player John Aldridge believes the owners would be foolish to sack Dalglish and start over again.
"Winning the Carling Cup was nice - especially when you consider that Manchester United finished empty handed - but in Premier League terms the campaign has been really, really poor," Aldridge told the Liverpool Echo.
"Every Reds fan knows we need some new additions to the squad, but I don't think it's time to start giving up on some of the players who have underperformed this season, just yet.
"Some of those players who arrived last summer and are still to impress will have benefited from the 12 months bedding in period they have had."
Nevertheless, Dalglish will be asked to explain Liverpool's failure to qualify for the Champions League despite FSG's £120m investment on new players. The club won the Carling Cup this season and reached the final of the FA Cup but they faltered badly in the league and Dalglish's report will attempt to persuade the owner's that a summer of investment is necessary to strengthen the squad.
Doubts remain over the Liverpool manager's transfer policy after he spent over £50m on the likes of Stewart Downing, Charlie Adam and Jordan Henderson ahead of the 2011-12 season. All three have failed to make a significant impact for the club, attracting more criticism than praise for their underwhelming performances throughout the campaign.
But while Aldridge agreed that the new signings have failed to justify their expensive price tags he cautioned that it was too soon to consider offloading anybody over the summer.
"We need to let those players settle and see if they can reproduce the form that persuaded Kenny to bring them in, but you can't just wait and wait and wait while you're getting nothing back in return," said Aldridge.
"There will clearly be some activity on the transfer front this summer - and everyone knows what areas of the side need strengthening.
"Clearly we still need a top class wide player and golascoring continues to be a problem throughout the squad.
He added: "The American owners invested in the squad last summer, and we have to hope that they will do again this time around because there's no doubt that the season hasn't been good enough.
"Winning a trophy is a step in the right direction, but there has to be improvement in our Premier League results next season."
© Copyright IBTimes 2023. All rights reserved.