Anti-virus software pioneer John McAfee was rushed to hospital after complaining of chest pains, but has now been returned to a Guatemalan detention centre as he faces deportation to Belize.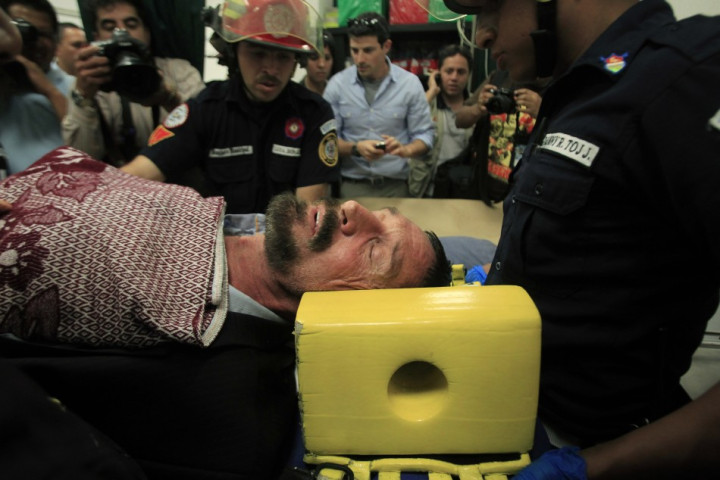 McAfee's lawyer in Guatemala, Telesforo Guerra earlier on Thursday told reporters his client had suffered two mild heart attacks, but later said: "He never had a heart attack, nothing like that."
"I'm not a doctor. I'm just telling you what the doctors told me," he added. "He was suffering from stress, hypertension and tachycardia (an abnormally fast heartbeat)."
The 67 year-old is now back in his cell in a Guatemala detention centre where he awaits deportation to Belize, where he is wanted for questioning over the murder of his neighbour Gregory Faull.
A doctor that examined McAfee said that his heart rhythm and blood pressure were normal, and that the software pioneer had not suffered a heart attack. McAfee was taken back to his cell on Thursday night where his lawyers are now battling to stop his deportation to Belize.
"Last night I had a little bit of pain, but I am fine this morning," McAfee told the Associated Press. "I don't like western medicine... if the people around me are kind and compassionate, that's all that matters in life. The people of Guatemala are very kind people, so I have no complaints."
Denied
After his request for asylum was denied by Guatemalan authorities, McAfee took to his blog to plead with readers to petition the Guatemalan president:
"Please email the President of Guatemala," wrote McAfee "and beg him to allow the court system to proceed, to determine my status in Guatemala, and please support the political asylum that I am asking for."
McAfee went into hiding in Belize on 11 November after Faull was found shot dead in his home. He has blogged continually throughout his time on the run, going so far as to meet two writers from Vice magazine and pose for photographs with them.
Although Belize authorities there have not issued a warrant for his arrest, McAfee and his lawyers insist that he will be in danger if he returns to the country:
"He will be in danger if he is returned to Belize, where he has denounced authorities," explained Guerra. "From the moment he asked for asylum he has to have the protection of the Guatemalan government."
"Seven months ago the Belizean government sent 42 armed soldiers into my property," McAfee told Vice magazine. "They killed one of my dogs, they broke into all of my houses, they stole, they arrested me and kept me handcuffed in the sun for 14 hours. I was taken to jail and it was only the intervention of the US embassy that got me out of jail."
After being denied asylum on Thursday, McAfee's lawyers appealed, giving him another 48 hours in Guatemala.
Must Read: