John McAfee, a well-known cybersecurity entrepreneur and founder of the popular anti-virus software that still bears his name, has admitted the first iteration of "Sentinel", his new anti-hacking platform geared towards businesses, was found to be vulnerable to hacking.
However, despite confirming a troubling year in terms of performance, he has reiterated that he intends to become the "world leader" in the field of security. On 12 April, the technology pioneer published an update to the shareholders of his company, MGT Capital Investments.
It was October last year when a commercial version of "Sentinel" became available to customers. The system was designed to monitor network traffic for suspicious activity and was – at the time – touted as the first device to give "actionable intelligence" before a company was hacked.
But as ongoing testing took place, McAfee said problems surfaced and soon vulnerabilities were found on both the "server and sensor side" of the product.
"The most difficult thing about software, especially in the field of security, is predicting exactly when it is ready for mass consumption," he said. "Now, I bear full blame for the fact that Sentinel was not available for mass consumption as we planned this past October.
"I would like to explain why.
"The most important thing to me is to deliver a product which is foolproof. Why? Because that's what I promised and, two, if I don't, we are all going to be in a world of hurt because if we do not have a solid defence against hacking then we will deteriorate, not just MGT but our entire society.
"So I did what I always do, I designed the best product in the world, I gave it to the best hackers in the world and unfortunately they beat me. It was pretty darn good but that's not good enough for me. So, those very hackers we gave the product to in our beta testing, I hired."
In November, McAfee posted an image to Twitter showing the platform in action as it protected MGT's bitcoin mining operation – a huge area of focus for the firm. In an interview with IBTimes UK last year, he claimed cryptocurrency will "change the culture of this world."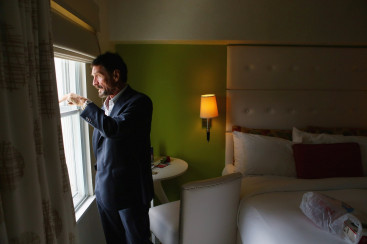 In his update to shareholders, McAfee indicated that cryptocurrency remains key to his vision. "I would like to thank the shareholders for hanging with us through what has not been my easiest year," he said in a video posted on his Facebook page on 12 April.
"In regards to bitcoin we have a keen interest in increasing our investment and activities in this area," he continued.
"Bitcoin, in spite of its continual fluctuation has created more value per year – year to year – than any company in US history.
"It's also based upon the blockchain which is increasingly becoming the world-standard for security, for assurance of identity and thousands of other applications.
"So, if we are not involved very deeply in the mining and understanding of bitcoin and blockchain technology we can in no way be a world leader in the field of security. I can assure you that I intend to be – and MGT – the world leader."
McAfee said MGT's performance was hampered by "corporate events that limited its access to capital and prevented it from quickly ramping up its tech team" and said the business had now "restructured" its technical team with white-hat hacker Chris Roberts at the helm.
Roberts, famous for "hacking" a commercial United Airlines plane, said Sentinel has already been "re-engineered with a greater understanding of the latest exploits."
He elaborated: "We know how the attackers work, so Sentinel has been enhanced to blend within its environment by maintaining the appropriate port and service configurations. Sentinel's advanced capabilities [...] identify legitimate threats within seconds."
Despite the set-backs, McAfee asserted: "I promise you, 2017 is going to be a good year."