John McDonnell has attempted to play down a 13-strong list of "hostile" Labour MPs released by the Jeremy for Labour campaign to the media.
The document has sparked another row within Labour and some of the MPs named have filed official compliments to party officials, while Neil Coyle has threatened to sue Jeremy Corbyn over the incident.
McDonnell, the chair of Corbyn's re-election campaign, blamed a "researcher" for the leak and claimed it was "just a factual report" of some of the critical statements Labour MPs have made of their leader.
"That release came from the campaign, it didn't come from Jeremy and we've apologised, it's just inappropriate," the shadow chancellor said this afternoon (15 September).
"One of our researchers saw a bit of incoming flack, and then did a list of all of the statements that had been made by other MPs, some of which were nor particularly kind, let's put it that way.
"It shouldn't have gone out and we apologise for that. It certainly wasn't a list to attack anyone, it was just a factual report. We are trying to work with everybody at the moment. Whatever happens in the result in the Labour leadership election next week, we have all got to come together.
He added: "The thing about last night when that came out, it just set us back. I was furious about it to be frank and it was just at that time when we were really rebuilding our relationships very, very well throughout the summer.
"I hope it hasn't set us back and we certainly will have a conversation with all those involved."
But Jamie Reed, another one of the Labour MPs named on the list, told IBTimes UK he had not heard "zip" about a meeting with the Corbyn team. Corbyn, meanwhile, claimed that he "never abuses anybody, tempting though as it sometimes is".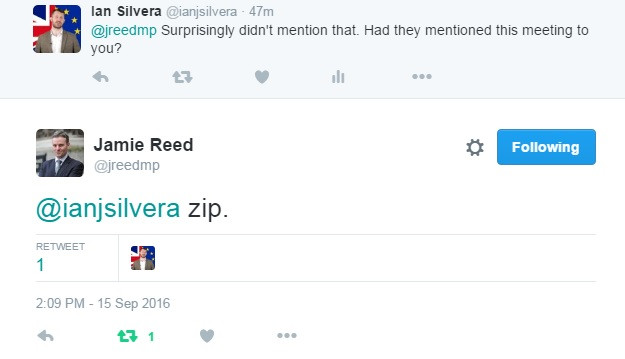 The row erupted after Corbyn gave one of his stronger performances at Prime Minister's Questions and with just over a week to go before the winner of the latest leadership contest is announced at Labour's annual conference in Liverpool on 24 September.
UPDATE: 16:26 BST
The Jeremy for Labour campaign issued a statement from McDonnell after the press event this afternoon.
"Jeremy Corbyn has made it clear time and time again that he categorically rejects negative campaigning and personal attacks," he said.
"I apologise on behalf of the campaign for the statement that was released yesterday in error. It was completely counter-productive. As Jeremy has said, it is imperative that we now do all we can to unify our party."
Full list of 'hostile' Labour MPs
Deputy leader and West Bromwich East MP Tom Watson

Pro-Trident Barrow and Furness MP John Woodcock

Outspoken Corbyn opponent and Birmingham Yardley MP Jess Phillips

Former shadow education secretary and Stoke-on-Trent MP Tristram Hunt

Dudley North MP Ian Austin

Bermondsey and Old Southwark MP Neil Coyle

Owen Smith supporter and Exeter MP Ben Bradshaw

Work and Pensions Committee chair Frank Field

Redcar MP Anna Turley

Copeland MP Jamie Reed

Former shadow attorney general and Kingston upon Hull East Karl Turner

Aberavon MP Stephen Kinnock

Middlesbrough South and East Cleveland MP Tom Blenkinsop