Donald Trump tweets and deletes US flag photo featuring Nazi soldiers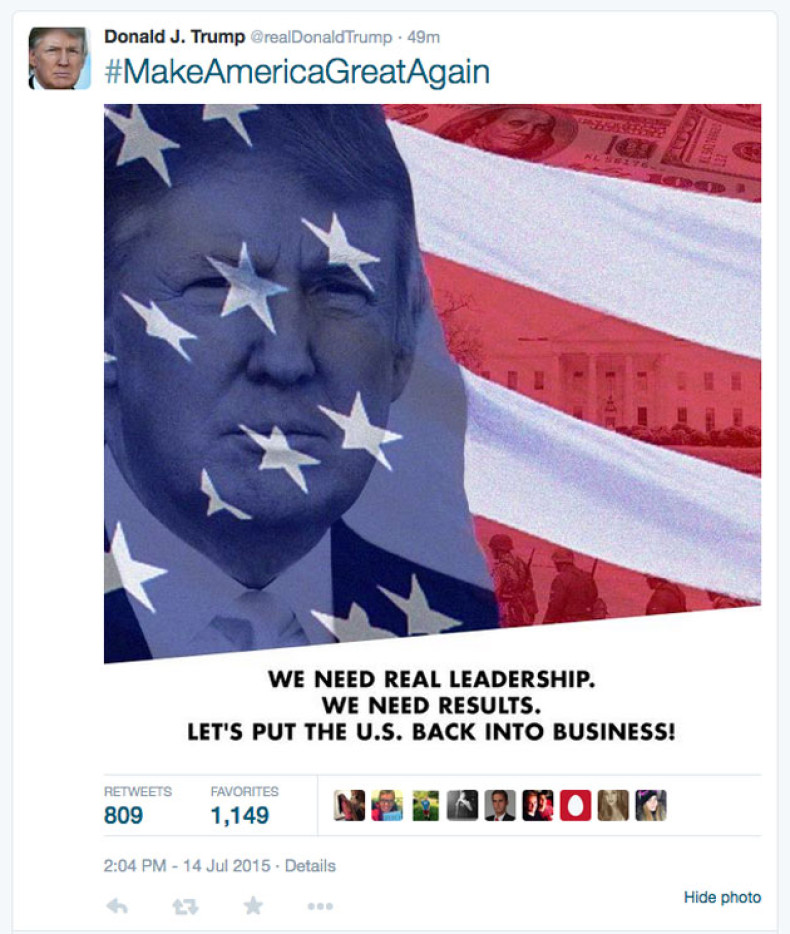 Republican presidential candidate Donald Trump tweeted and later deleted, a campaign photo that included the American flag superimposed over Nazi soldiers. While the photo was promptly removed from Trump's account, online sleuths quickly discovered the original image of the soldiers.
The image was first caught by John Schindler, a former professor at the US Army War College, VICE News reported. Other military history enthusiast also spotted the soldier mix-up in the photo.
"One of my followers tweeted at me, curious if the soldiers were Wehrmacht," Schindler told VICE. "But it's actually much worse: they are SS."
According to VICE News, Schindler noticed the soldier's uniforms, the shape of their helmets and even their shirt cuffs. "The real clincher is above that on left arm, midway up biceps there's an eagle," he noted. "That was worn [by] a Waffen-SS only."
The image used was taken by photographer George Cairns at a World War II reenactment near Kent, England within the last five years, Mother Jones reported. Cairns, a stock photographer, told Mother Jones that the photo does not make Trump look good.
"Well luckily, it's not endorsed him in a sense ... So that's a good thing," he said. "I'm not a Trump supporter. I can sleep OK tonight."
The Trump campaign was quick to blame an intern for the snafu. CNNPolitics reporter MJ Lee tweeted, "Trump Org EVP Michael Cohen says an intern accidentally posted questionable photo; apologized and immediately deleted".
However, Schindler did not easily accept the Trump campaign's excuse. VICE News reported he tweeted, "1945: 'I was only following orders.'.... 2015: 'An intern did it.' #Trump2016 #WaffenSSGate".