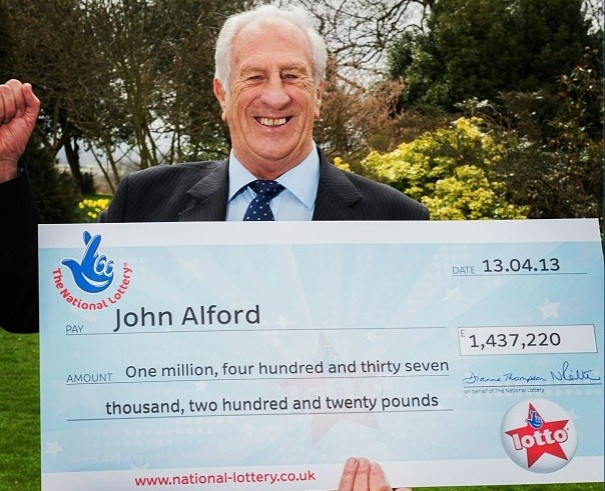 A man from Wiltshire has won the lottery three times in one day, picking up over £1.4m ($2m).
John and Pauline Alford from Trowbridge first won £2 on a scratchcard, then £5 on the Thunderball and then picked up the top prize of £1,437,220 on the National Lottery with a lucky dip ticket.
The 76-year-olds, who are great-grandparents, said it was "unbelievable" and are now planning what to do with their winnings, starting with a two-week holiday to Florida with 20 of their family members.
Mr Alford told The Bath Chronicle: "At our age we can go around the world on a cruise, we can do it if we want.
"The family haven't got to worry about the thing, the lot is all done and that is more joyous than anything.
"We won't move out of Trowbridge, I like the people in Trowbridge, I like the area, we are so lucky. We are happy, we might get a bungalow but now we have the money for a chair-lift but we're happy and every one of our family live in Trowbridge. What more can one want?"
He added that he almost did not buy the lottery ticket, having gone to Asda instead of his normal local shop: "There were a lot of people in the queue and I almost walked away to go to my usual store down the road, but something made me stay and here I am, a big winner. Sometimes fate works like that, I suppose."
The odds of winning the jackpot in the National Lottery are around one in 14 million. For the EuroMillions, the chance is just one in 116.5 million.
One person who beat the odds to win big on the EuroMillions twice in just three years is George Traykov from Essex.
Traykov won the Millionaire Raffle in September 2011 and then picked up £160,873 in March this year, being just one of lucky few winning the £12m jackpot.