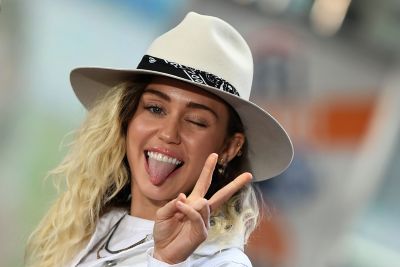 This is so adorable! John Stamos has shared a throwback photo of him meeting a very young Miley Cyrus.
The snap posted on Instagram shows country music star Billy Ray Cyrus carrying his little girl in his arms with the Full House star looking at the Malibu singer in delight.
Miley's father sports a blue denim jacket while the songstress is wearing bright red pants paired with a rainbow ribbon and striped bow on her white t-shirt. Stamos sports a black leather jacket in the picture.
"That one time I met @mileycyrus," the 54-year-old actor wrote alongside the snap he shared with his 2.1 million fans on the photo-and-video-sharing application on Monday.
The snap has already garnered more than 135,000 likes, with fans rushing to the comments section and sharing their thoughts on the photo.
"She looks like a little cabbage patch baby," a user commented and another added, "This is the best thing ever."
"Many moons ago buddy she was so cute," a user said, while some pointed out at Stamos' sideburns. "Look at those Elvis side," a user said and other added, "The sideburns! truly looking like Elvis there."
"I'm fascinated by the old photos you post. You must have one hell of an archive!" another said, referring to Stamos posting throwback photos and videos on social media in recent days.
Stamos previously shared a throwback video of twins Mary-Kate and Ashley Olsen. In the short clip, the sisters can be heard calling Stamos "Jesse" instead of "John".
Speaking about Miley, the songstress recently revealed why she can't adopt more dogs.
"I will actually get dumped if I get one more animal. I won't, but I want to," Liam Hemsworth's girlfriend said, according to Extra TV.