Chelsea captain John Terry has been banned for four matches and fined £220,000 after being found guilty by The Football Association of racially abusing Queens Park Rangers defender Anton Ferdinand.
Terry, who was cleared of criminal charges at Westminster Magistrates Court in July, will miss the matches against Arsenal, Norwich City and Tottenham Hotspur in the Premier League and the League Cup fourth round tie against Manchester United.
Terry's lawyer has accused the FA of putting the England defender through double jeopardy, following his earlier aquittal in a criminal case at Westminster Crown Court.
The charge relates to a confrontation between the two players during QPR's match with Chelsea on 23 October, which led to a police investiagation and prompted the FA strip Terry of the England captaincy in February.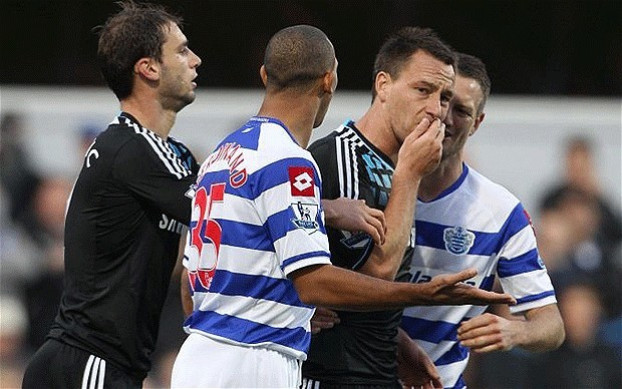 "The Football Association charged Mr Terry on Friday 27 July 2012 with using abusive and/or insulting words and/or behaviour towards Queens Park Rangers' Anton Ferdinand and which included a reference to colour and/or race contrary to FA Rule E3[2] in relation to the Queens Park Rangers FC versus Chelsea FC fixture at Loftus Road on 23 October 2011.
"The charge was the result of The FA's long-standing investigation into this matter, which was placed on hold at the request of the Crown Prosecution Service and Mr Terry's representatives pending the outcome of the criminal trial.
"Mr Terry be suspended from all domestic club football until such time as Chelsea's First Team have completed four competitive matches and fined the sum of £220,000."
Ahead of the hearing, Terry confirmed his retirement from international football after labelling his position with the FA 'untenable' after charges were brought against him despite him being cleared in a court of law.
However, while the CPS requires the burden proof to be 'beyond reasonable doubt' the FA will accept a verdict from their independent panel based 'on the balance of probabilities'. A full explanation for the decision of the independent panel will follow in due course.
Terry, 31, becomes the second player to receive a ban for racial abuse in the Premier League after Liverpool's Luis Suarez was banned for eight matches for an incident involving Manchester United defender Patrice Evra in October 2011. He has 14 days to submit an appeal against the ban and fine.
A statement on behalf of Terry said: "We are disappointed that The FA commission has reached a different conclusion to the clear 'not guilty' verdict of a court of law.
"He has asked for the detailed written reasons & will consider carefully before deciding whether to lodge an appeal."