Rio Ferdinand Reignites Racism Row with Slur on Ashley Cole
The comments were referring to the testimony made by Cole at Westminster Magistrates' Court on Friday in support of his Chelsea teammate and captain Terry
Manchester United defender Rio Ferdinand has sparked off another football racism row on Saturday following an incident in which the 33 year old called fellow England international and Chelsea wing-back Ashley Cole a "choc ice".
A Twitter user sent Ferdinand a public message, saying:, "Looks like Ashley Cole's going to be their choc ice. Then again he's always been a sellout. Shame on him." Rio replied to the tweet, seeming to endorse the insult, saying: "I hear you fella! Choc ice is classic hahahahahahha!!"
The tweets were later deleted.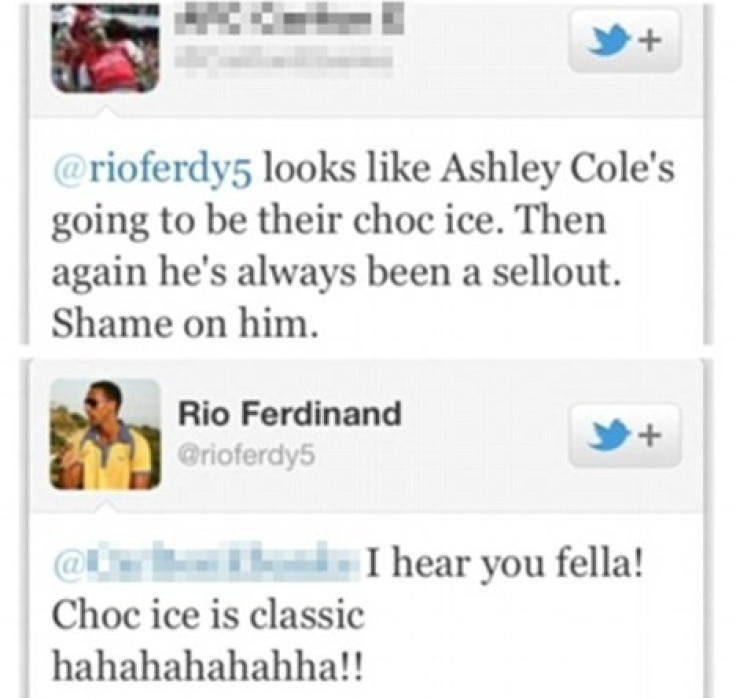 The insult, which means dark on the outside but white on the inside, is a racially insensitive and derogatory term to describe black people who are believed to have betrayed their ethnicity and deemed to be too keen to please white people.
The comments were referring to testimony made by Cole at the Westminster Magistrates' Court on Friday, in support of his Chelsea team mate and captain John Terry, who was accused of a racially aggravated public order offence towards Ferdinand's brother and QPR defender Anton in a Premier League match back in October. Cole appeared as a witness for Terry's defence during the trial and testified his team mate had not used racial language as an insult but was only repeating back the words "f------ black c---" to deny using them after Ferdinand accused him of saying it. Terry was found not guilty.
After the tweet, some fans rounded on Ferdinand and accused him of using racially insulting language but the United veteran appeared bullish about the response, writing: "And if I want to laugh at something someone tweets....I will! Hahahahaha! Now stop getting ya knickers in a twist!"

Cole has played alongside Ferdinand and Terry for England for several years. Representatives of the 31 year old later released a statement in a bid to defuse the situation.
"Ashley Cole has been made aware of the discussion following comments appearing on Twitter and wishes to make it clear that he and Rio Ferdinand are good friends and Ashley has no intention of making any sort of complaint. Ashley appreciates that Tweeting is so quick it often results in off-hand and stray comments," ESPN quoted the statement.
Ferdinand will face Cole and Terry on 28 October when United visit Chelsea in a league fixture.
© Copyright IBTimes 2023. All rights reserved.