Stunt performer-turned-director Chad Stahelski reunites with Keanu Reeves for action-packed sequel John Wick: Chapter 2, also starring Ruby Rose, Common, Laurence Fishburne and Ian McShane. Once again offering up thrilling action sequences and an intriguing underworld of assassins, can it live up to the acclaim the original received?
Our verdict
When crime thriller John Wick was released, its simple yet solid story and flawlessly choreographed action impressed both cinema-goers and critics. It centred on Reeves' titular hitman, who had somehow managed to leave the fold behind and start afresh with his wife Helen. But when Helen tragically dies, his treasured car is stolen and the puppy she left him is killed by Russian thugs, John Wick finds himself seduced by the assassin life once again and embarks on a blood-thirsty road to revenge.
The sequel smoothly builds on the world setup in the original film detailing how Wick's former associate Santino D'Antonio (Riccardo Scamarcio) catches wind of his return and calls upon him to carry out a particularly difficult task. What is it that he wants Wick to do? To kill his sister so that D'Antonio can take her place at the "High Table"; a council of high-level crime lords himself.
Wick is initially reluctant but when D'Antonio explains how he owes him a favour due to him previously helping Wick escape his former life, he has no choice but to agree to the job. Naively believing that he can carry out the deed and then walk away a free man, Wick soon finds himself in a deadly game of survival as almost every assassin across the world tries to kill him before he walks away from the circle again.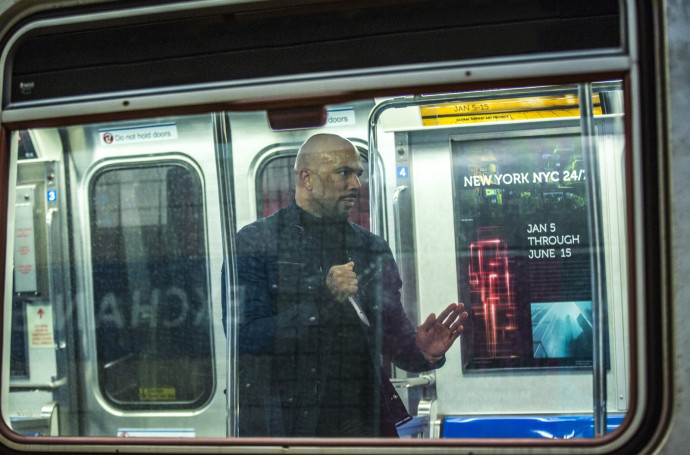 In all honesty, John Wick could have been a standalone movie. Audiences were plonked right into the action - with the first scene echoing the ending - and throughout, they learned practically nothing about the film's lead character and even less about his backstory as a killing machine. Nor did they really care at the time. Here however, viewers learn a great deal more. Perhaps not so much about the man himself but the global organisation of assassinations he is involved with and it is undeniably intriguing.
Unlike many hitman-themed plots or action-packed one-offs, Chapter 2 allows screenwriter Derek Kolstad to add richness and weave out even more intricacies to the shadowy world we've come to know. Different branches of the Continental Hotel - the safe haven for assassins everywhere - and the underground hierarchy are explored. Meanwhile, the importance of rules, blood oaths, gold coins and the inner-workings of on-the-ground surveillance carried out by a network of homeless assassins are all explained.
Throughout its final act, the sequel also starts to raise questions about Wick's conscience and even the concept of morality. Self-aware, it lets the audience know that it is not interested in shying away from how dark it is but rather, it is keen to examine why it is through its characters. It is evident that Summit Entertainment is keen to build a franchise with this material, adding further chapters, and so far, it looks like it is going to be an easy sell.
There is an extended sequence that sees Wick literally gearing up for a violent ambush by testing out the latest artillery the secret service has to offer and putting his orders in for a bespoke, bullet-proof suit. It is a little more cliche than the neo-noir original but it makes for an interesting couple of minutes that is sure to prove popular with hardcore action or spy movie fans.
It is not just the story - and the gadgets - in John Wick: Chapter 2 that feel bigger and bolder either. Pulsing New York nightclubs make way for operatic rock concerts in the catacombs of Rome; hotel rooms are passed up for gleaming futuristic subways and a rain-drenched dock move aside for a mirror-filled art installation.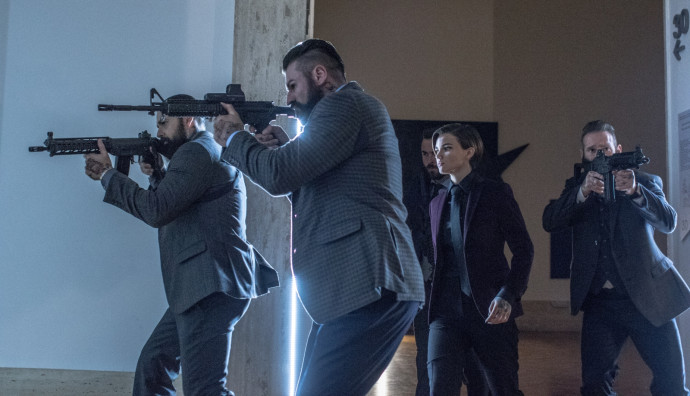 The action choreography is tighter than ever, adding in some inventive slaughters along the way. It's stylistic and stunning, with Tyler Bates and Joel J Richard's atmospheric score once again elevating the visuals to new heights.
For all of its successes though, there are moments where the film loses its footing. Laurence Fishburne's inclusion as pigeon-wrangler-turned-networking guru Bowery King feels thrown in simply because the actor wanted to reunite with his old Matrix buddy, while some of the film's lines border on cheesy ridiculousness: "Do you want a war or do you want to just give me a gun?"
As it delves into the mythology, John Wick: Chapter 2 also gets a little weird. Most obviously in the amount of humour it manages to weave into a movie that literally revolves around death. Seriously, it is laugh-out-loud funny on several occasions. Peter Stormare's brilliant comedic cameo in the opener or when Wick and an adversary take sly silent shots at one another in the middle of a crowd are just two examples.
Fortunately, its cast is good enough that the more out-of-place moments can be ignored. The supporting players are great across the board, from Ian McShane's returning Continental kingpin Winston and John Leguizamo's chop-shop owner Aurelio to Common's loyal bodyguard Cassian and Ruby Rose's mute security enforcer Ares. But there is no pretending like this is not Reeves' film. Both taciturn and tactical, the brooding, beardy brawler fits him like a personalised gun-grip.
While it may not be quite as slick and polished as the first instalment and its occasionally over-the-top gags will not sit well with some, John Wick: Chapter 2 knows what fans want and it undoubtedly delivers. Basically, we cannot wait to see you again, Mr. Wick... we await Chapter 3 with patience.