Johnny Depp has been spotted wearing his fiancée Amber Heard's engagement ring.
The 50-year-old, who recently celebrated his engagement to the 27-year-old star, revealed that the diamond ring was "too big for her," so he started wearing it instead.
Depp, who was in Beijing for the premiere of his new movie Transcendence, showed off the diamond ring that he described as a 'chick's ring.'
The actor, who has until now been reluctant to discuss his relationship with his Rum Diary co-star, indirectly confirmed his engagement.
"The fact that I'm wearing a chick's ring on my finger is probably a dead giveaway. Not very subtle," he told the assembled press as he showed off the single diamond on a band around his ring finger.
His comments follow months of unconfirmed reports of his engagement to actress Heard.
Discussing wedding plans the actor added: "I think that I would be better at making women's shoes than I would be at wedding planning, I can't plan anything. I'm really bad at that stuff."
The Pirates of the Caribbean star threw a lavish engagement party for his fiancé, earlier this month. One hundred of the couple's closest friends and family joined in the celebration at Carondelet House in LA, among them his two children, Lily Rose and Jack, his mother Betty Sue Palmer and his celebrity friends, including Steven Tyler, Marilyn Manson and Mandy Moore.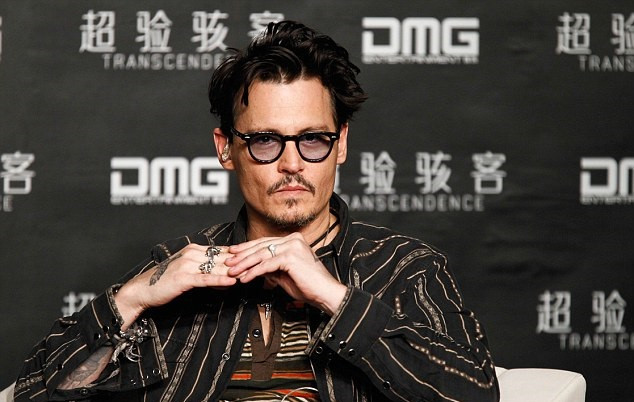 Depp has had a series of high profile relationships. He was first married to Lori Anne Allison from 1983 to 1985. He was later engaged to actresses Jennifer Grey and Sherilyn Fenn, before proposing in 1990 to his Edward Scissorhands co-star Winona Ryder, however, the relationship floundered. He later dated British supermodel Kate Moss, who is now married to Jamie Hince.
In 2012, Depp split with his partner of 14 years, French model-singer Vanessa Paradis. They have two children, but never married.
The actor stars in Transcendence as a terminally ill scientist who downloads his mind into a computer in the sci-fi drama.
Describing the themes of the film he said: "The technology that exists within the film, what I find most fascinating is that a lot of it exists already and by all accounts from scholars and professors and scientists that species of technology is not far away, that kind of artificial intelligence.
"It's one of those films that one person is forced to make a choice in an instant, when your loved one is dying and you have a split-second decision if you have the ability to upload their consciousness into a computer, would you do that? It's quite a strange decision to make but for love I think we would all do it."
Also starring Rebecca Hall and Morgan Freeman Transcendence releases on April 18.