Boris Johnson reportedly offered to withdraw from the Tory leadership race in return for a guarantee from Theresa May that she would step down in 2020 to pave the way for him, according to a report in the Times.
A "supporter" of the former Mayor of London is reported to have made the proposition in the hours after the result of the EU referendum, but the Home Secretary rejected the deal and refused to meet with Johnson. Sources close to the prominent Vote Leave campaign deny that either he or an intermediary tabled such a deal, but conceded that multiple efforts had been made to arrange a meeting between the two, the newspaper reported.
The revelations come after an extraordinary day in Tory ranks, which saw Justice Secretary Michael Gove announce a leadership bid. Gove was accused of committing an "act of treachery" after essentially eliminating Johnson as a contender and a bitter internal split was soon made public.
Conservative MP for Rossendale and Darwen Jake Berry tweeted: "There is a very deep pit reserved in Hell for such as he". He later posted: "I do not for one moment resile from my opinion that as a traitor Gove leaves Judas Iscariot standing."
Johnson's father, Stanley, compared his son's predicament to the fate of Julius Caesar, who was assassinated by Roman senators. "'Et tu Brute' is my comment on that," He said. "I don't think he is called Brutus, but you never know."
Despite the criticism, Gove offered a candid view on his decision to enter the contest late on. "In the last four days I had a chance to see up close and personal how Boris dealt with some of the decisions we needed to make in order to take this country forward," he said.
"During that period I had hoped that Boris would rise to the occasion because inevitably when you have a leadership election, people are tested, questions are asked of them, tests are set.
"Boris has formidable qualities but I saw him seek to meet and not pass those tests. I also thought ultimately, can I recommend to my friends that this person is right to be prime minister?" Gove is set to make a speech later today, setting out his case to succeed David Cameron.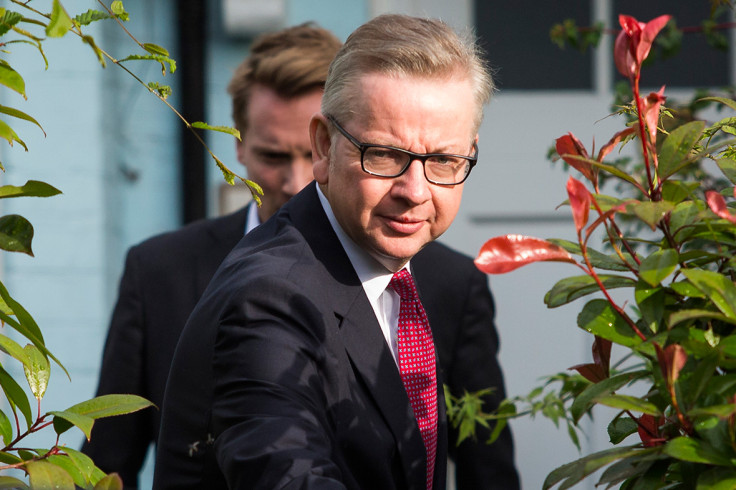 Senior Tories pave the way for May
The five Conservative ministers running for the post are Theresa May, Michael Gove, Stephen Crabb, Andrea Leadsom and Liam Fox. The home secretary's leadership bid took a boost as senior Tories lined up to support her.
Defence Secretary Michael Fallon said: "I've worked closely with Theresa on security and she is the right person to steer Britain through the serious challenges we now face.
"Theresa is the best person to lead our exit from the EU so that we reduce immigration and regain sovereignty while protecting our hard won economic growth," he added. "She has the track record, the temperament and the commitment to unite both the party and the country behind a clear plan for our future."
May was also backed by Transport Secretary Patrick McLoughlin, who said she was the right person to negotiate a post-Brexit deal with Brussels. Writing in the Sun, he said: "We know that the next Prime Minister needs to forge a deal from the EU as we shape our brighter future in the rest of the world. And her track record shows that when Theresa arrives in Brussels, Europe's bosses sit up and listen."
The home secretary was also given further cause for optimism after a Sky Data snap poll showed 47% of those surveyed supported May to succeed Cameron. Gove trailed with 9% backing, followed by Crabb on 7% and Leadsom and Fox tied on 4%. Sky Data interviewed 1,062 people.