Featherweight champion Jose Aldo will take on interim champion Max Holloway at UFC 212 at the Rio Olympic Arena in Rio de Janeiro, Brazil on Saturday (3 June).
Where to watch live
The main card event starts at 3am BST (Sunday in the UK). Live coverage is on BT Sport 1 and BT Sport 1 HD with live streaming available on BTSport.com.
Overview
In a featherweight title unification bout, Aldo will take on Holloway in one of the most important fights in the 145 pound division.
Aldo (26-2 record in MMA) will be looking to continue his reign in the featherweight division despite his 13-second knockout to Conor McGregor.
With just one loss in over 11 years, the Brazilian will still undoubtedly be the favourite, especially on his home turf in Rio de Janeiro.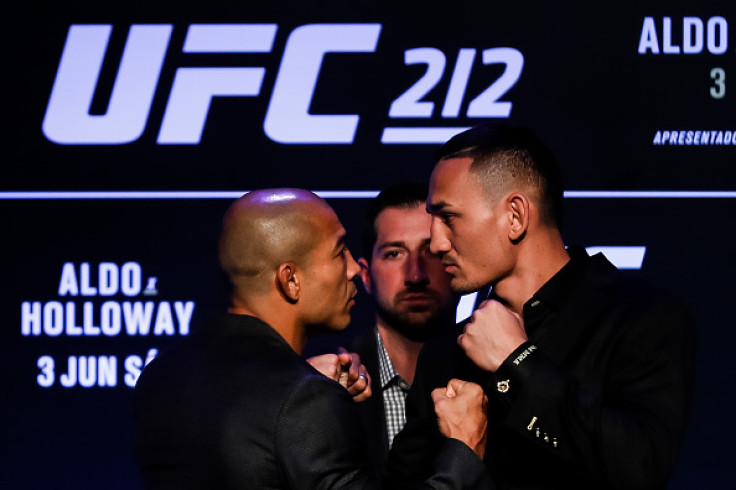 However, Holloway (17-3 record in MMA) has been on a tear in the featherweight division, racking up 10 straight wins, which is the fourth longest winning streak among active fighters.
A comprehensive win over Aldo would cement Holloway as a legitimate superstar with not only an impressive winning streak but a UFC champion at just 25 years of age.
The only question is if the usually confident Hawaiian can keep his nerve — Aldo is undoubtedly the toughest opponent he has ever faced and he will also have to deal with the Brazilian crowd all waiting for him to lose.
Prediction
Max Holloway to win via decision.
What they say
Jose Aldo: "He never went through this. He never experienced a fight like this, so important. Everything is new to him. You can see his attitude is different face to face. He's nervous, you can see. He's trying to show something he's not. I'll go forward all the time, go after the victory. If it stays standing I'll knock him out, connect several blows. But I've been training jiu-jitsu a lot, and if I have the chance on the ground I'll catch him, for sure," via MMA Fighting.
Max Holloway: "I just can't wait to do the damn thing, get in there and fight one of the greatest of all time. He's one of the greats in our sport, but it's time for a new era. I've been the underdog my whole life. I don't care. I'm not supposed to be here. Max Holloway is not supposed to be talking to any of you guys. I'm not supposed to be here. It is what it is. Actions speak louder than words, and I've been doing a lot of actions," via MMAJunkie.
Betting odds (Betfair)
Jose Aldo to win: 4/6
Max Holloway to win: 6/5
Main Card Event
Featherweight unification bout: Jose Aldo (C) vs Max Holloway (C)
Women's strawweight: Cláudia Gadelha vs Karolina Kowalkiewicz
Middleweight: Vitor Belfort vs Nate Marquardt
Middleweight: Paulo Borrachinha vs Oluwale Bamgbose
Welterweight: Erick Silva vs. Yancy Medeiros