Real Madrid boss Jose Mourinho says his next managerial move with be to the Premier League, while also admitting he still has a place in his heart for former club Chelsea.
The Portuguese boss won two Premier League titles, the FA Cup and two League Cups during his three-and-a-half season stay in English football with Chelsea and has often been linked with a return.
And Mourinho has confirmed that his love affair with the Premier League will continue following his departure from Madrid and hints that Stamford Bridge could be a possible destination.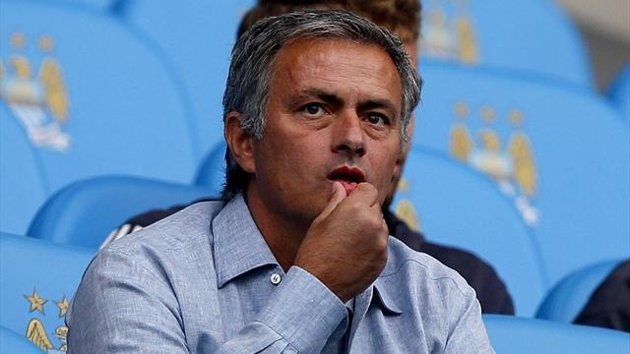 "In England I am blue. I will push a little but when I watch matches on TV," he told Sky Sports News.
"I cannot deny what is clear in my mind. After Real Madrid, England, that's for sure. I keep saying the same, I know clearly.
"In England (I could manage) everyone. I am blue, but I am London blue. I am a professional."
Mourinho left Chelsea in 2007 in acrimonious circumstances after failing to claim the Champions League in his three seasons at the club.
Under replacement Avram Grant, Chelsea reached the final in 2008 only to lose to Manchester United, while last season current boss Roberto Di Matteo led to the club to their first Champions League success against Bayern Munich.
Despite Di Matteo's triumph in claiming the European Cup and FA Cup during his first season in charge, the pressure will be on the Italian to reproduce the heroics in the Premier League.
The clamour among Chelsea fans to see Mourinho return still remains, with the 49 year old believing he still has unfinished business in west London.
Meanwhile, the loss of Didier Drogba has limited the club's attacking options this season, and Mourinho believes the Ivorian's departure will eventually hurt Di Matteo's side.
"I believe Drogba is the big difference for them. I don't think you can replace him. You can buy top players and invest like Chelsea did, but there is only one Drogba, in the Premiership and Chelsea's history," added Mourinho.
"Drogba means crucial moments. The final, a top match, Drogba is there. When the team is losing at home, Drogba is there. Chelsea will miss Drogba and Drogba will mean a few less points. But the team is good, with good players and they are European champions."