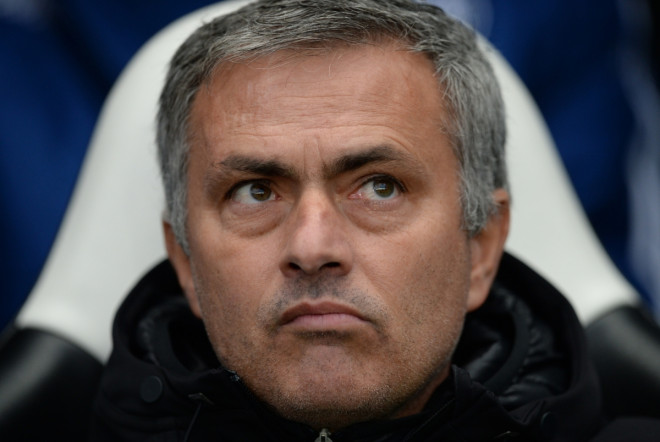 Chelsea manager Jose Mourinho has launched a scathing attack on the media and attempted to clarify comments regarding the club's attacking trio of Samuel Eto'o, Fernando Torres and Demba Ba which were recorded during a private meeting prior to the Champions League game at Galatasaray.
French television channel Canal Plus have broadcast a recording of Mouirnho speaking with the owner of Swiss manufacturer Hublot in which he has criticised the attacking options available to him.
"I have a team but no striker," said Mourinho. "The problem at Chelsea is that we are lacking a goalscorer. I have one [Samuel Eto'o] but he is 32, possibly 35, who knows?"
The release of the comments have worked to overshadow the build-up to Chelsea's Champions League last 16 first leg against Galastasaray, which includes a reunion with former striker Didier Drogba, and has provoked a strong reaction from Mournho.
"I think you [the media] should be embarrassed from an ethical point of view that a colleague is able to record a private conversation and to make it public," said Mourinho.
"He should be embarrassed because you have to work with him. From my point of view these are not happy comments but from an ethical point of view it is a disgrace.
"I am not defending what I am saying. I am attacking something that is in your professional area and that person showed exactly what he is or what he doesn't know about the job."
Despite leading the Premier League table, Mourinho has continually downplayed the club's hopes of winning major silverware this season owing this down to the resources available to Manchester City as much as the development of his own squad.
After allowing Romelu Lukaku to leave Chelsea on a season-long loan to Everton, the club's three remaining forwards in Eto'o, Torres and Ba have scored 19 goals between them in all competitions but Mourinho has repeatedly stated his intention to sign a new forward in the summer.
The Portuguese boss also mentioned the possibility of launching a bid to sign Monaco forward Radamel Falcao in the summer, but the comments eluding to the problems regarding his attacking trio, particularly Eto'o, are expected to sufficiently damage his relationship with the players.
But Mourinho is keen to downplay the significance of the comments, claiming they were made in jest, and used his long-standing association with Eto'o as evidence of their value.
"From my perspective the comments are obviously not good and is not one that I would do in a serious or something I would do in a professional way," added Mourinho.
"First of all I don't because I don't make fun and secondly because if there are managers in the world who defending their players I am obviously one of them.
"Third because Samuel Eto'o is a four-time Champions League winner, two with Real Madrid, one with Barcelona and one with Inter. It was with Inter that I had the best season of my career. He is one of the few players who is working with me at a second club and the manager never does that if he doesn't like the player or like the person.
"He has no reason to be upset. He said a couple of years ago that Mourinho was the only manager that he would never play for and after one year he was playing for me at Inter and a few years later he is playing at Chelsea with me.
"There is no story. It was a funny conversation between me and somebody that does not belong to the football world. We were laughing and I think it is a disgrace that somebody is taking this recording, a private conversation when obviously we don't know."