Real Madrid manager Jose Mourinho could join Paris Saint Germain this summer should he leave the Bernabeu, according to former president Ramon Calderon, dampening a possible return to Chelsea.
With Madrid 16 points behind leaders Barcelona in La Liga, the club face two potentially crucial games in the next eight days taking on their Catalan rivals in the second leg of the Copa del Rey semi-final and Manchester United in the Champions League next week.
The matches sandwich another El Classico meeting, and it's understood the coming days could decide Mourinho's future at Madrid, with president Florentino Perez ready to made wholesale changes this summer.
Reports have suggested that Perez will attempt to swap Mourinho for PSG boss Carlo Ancelotti, with the Portugese boss moving to the Ligue 1 leaders, and Calderon believes it could become a reality at the end of the campaign.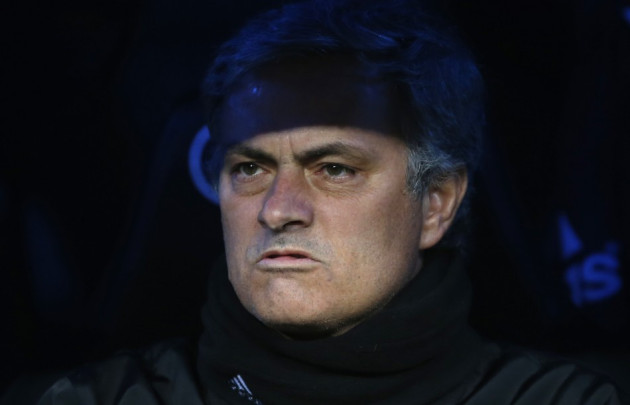 "Real Madrid have a problem with the attitude of Mourinho," he told talkSPORT.
"We are not used to a coach who complains about referees, UEFA or injuries. We are always talking about what is going on on the field so that's something I don't like.
"All I'm saying is that it's the president's fault, Mourinho is not cheating anyone when he's behaving like that, everywhere he's been he's acted in the same way. So the one that is signing him is assuming that's what he's getting.
"It seems that he's going to leave and also very probably he will go to Paris St Germain. I don't really know he says he's going to stay but I don't think so. Things have gone too far and Real Madrid are not willing to accept, I think, anymore of his behaviour.
"I think it's clear that those players are not happy with that behaviour, mainly the Spaniard's they are not used to that kind of attitude some of them I don't recognise playing in some matches. Some of the players I know very well and there is a big fight between some players and the coach."
The news of a possible move to France for Mourinho will come as a major disappointment to those Chelsea supporters hoping for a return of 'the special one' to Stamford Bridge.
Since the departure of Roberto di Matteo, Chelsea fans have been constant in their distaste for interim boss Rafa Benitez, while demands for the return of Mourinho, who won two league titles, two League Cups and the FA Cup in just over three seasons in English football, have swelled with every passing defeat.
Chelsea have of late slipped to fourth in the Premier League, following the weekend loss to Manchester City, and face a tricky task of qualifying for the Champions League with London rivals Arsenal also in contention.