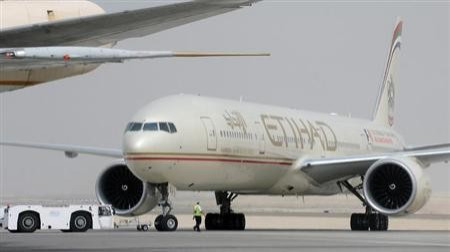 An Etihad flight from Melbourne to Abu Dhabi was forced to land in Jakarta after an arsonist lit a series of fires on board the plane.
Flight EY461 left Melbourne at around 11pm on Monday, but was forced to make an emergency diversion at the Indonesian capital after two fires broke out in the cabin toilets in mid-air. The plane, a Boeing 777-300ER, remained at the airport for two and a half hours while officials investigated a "series of incidents".
After passengers were evacuated and security checks completed, the plane took off again. Shortly afterwards, three more fires erupted two hours before the plane was due to land at the UAE airport.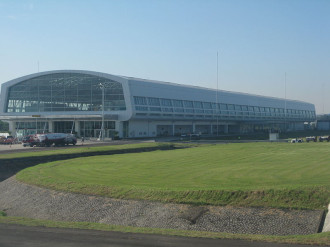 Speaking to News.au, a spokesperson for Etihad said: "When smoke was detected in two of the toilets on flight EY 461 from Melbourne to Abu Dhabi on 17 February, the captain decided to divert the aircraft as a precautionary measure and land in Jakarta in order to allow the authorities to assist him to conduct a security assessment of the situation. The flight landed normally.
"The flight resumed after a security search of the aircraft, passengers and their carry-on luggage. The captain implemented strict controls over passenger movement in the cabin, particularly passenger access to the toilets."
Sarah Jeffery, a passenger on the flight, told Fairfax Media she had awoken to the sound of a "loud alarm, a flashing red light and rushing crew members."
She said: "I looked and saw flames coming from the bin in the toilet, and two cabin crew members put it out. It was very smoky and it felt like the aircraft had filled with smoke."
Ms Jeffery said passengers were quickly evacuated and searched before the flight resumed. As the plane flew above the Indian Ocean, however, another fire was ignited while the crew prepared breakfast.
After the fire had been extinguished, Ms Jeffery said the atmosphere changed.
She said: "At this point, we were all asked to remain seated, and the toilets couldn't be used. Breakfast was not served, which also meant we had only had one drink and a muffin in over 12 hours."
"I was very frightened that we had two more hours before reaching Abu Dhabi, and I actually sent messages to my boyfriend and son telling them how much I loved them, in the hope that if anything happened they would receive them."