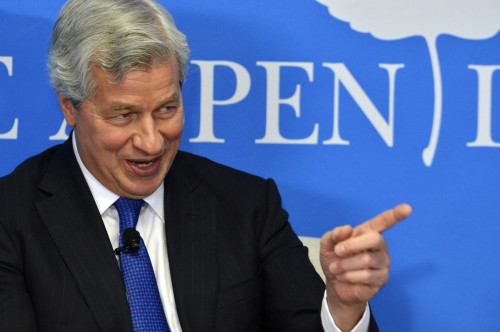 JPMorgan's chief executive Jamie Dimon is due to collect $34m worth of stock options, despite already claiming a 74% pay rise for 2013 amid billions of dollars in fines that hit the bank last year.
In 2008, Dimon was granted two million stock options and now, five years later, he is able to cash in.
However, JPM's board of directors has to still rule whether the bank will allow its boss to claim the stock options worth $34m (£20.6m, €24.8m) at current market valuation.
Dimon has already racked up a healthy pay packet for 2013 as the same board of directors signed off on a 74% basic salary rise.
For 2013, despite over $23bn worth of financial scandal fines and legal fees, pushing the bank to report its first ever major quarterly loss under Dimon, the board agreed to put his salary up to $20m, from $11.5m a year ago.
Speaking at the World Economic Forum in Davos, Switzerland last week, Dimon hit back at the US government for a raft of 'unfair' fines related to the mortgage securities scandal that ended up costing the Wall Street giant billions of dollars in settlements.
"I think a lot of it was unfair, but I am not going to go into the details," said Dimon.
"It would really hurt this company and that would have been criminal for me to subject our company to those kinds of issues," he added after saying that JPM had "two really bad options" in choosing to settle or fight the cases.
Dimon said it could have taken three or four years of legal wranglings with the government which in turn could lead to a worse outcome than its $13bn settlement with regulators.
He reiterated that many government claims against the bank were unfair because the dealings took place at Bear Stearns and Washington Mutual, before JPM bought them during the financial crisis.