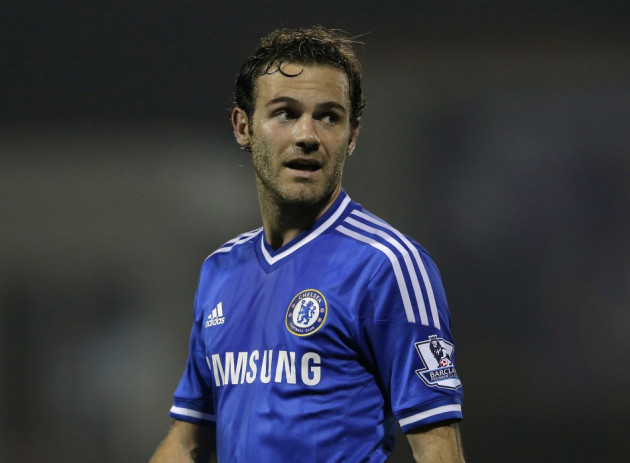 Chelsea manager Jose Mourinho will reward Juan Mata for his impressive display against Tottenham Hotspur with a start in the Champions League group game against Steaua Bucharest.
Mata replaced John Obi Mikel at half time at White Hart Lane and inspired a second half comeback as his free-kick found John Terry who headed in a second half leveller.
The Blues looked likely to take all three points before Fernando Torres' sending off saw Chelsea eventually hold out for a share of the spoils, and Mourinho, who has restricted Mata's appearances so far this season, the Spaniard will start for the mid-week trip to Romania.
"I think this is the way players have to say I want to play, blah blah blah is not good, conversations with the press aren't good, what's good is the effort he made against Swindon," Mourinho said.
"It's the way he changed the team in the second half and because of that I'm very happy and I can say with 72 hours in advance, he plays in Steaua Bucharest, he earned that himself."
Mata won the Chelsea Player of the Year of the award for the past two seasons as the club claimed first the Champions League and then the Europa League last term.
But the club's embarrassment of riches in the creative midfielder role, which saw Oscar, Ramires and Eden Hazard start on Saturday, has seen Mata's marginalised in the Chelsea first team.
The former Valencia playmaker says he is happy to wait for his opportunity.
"Obviously everyone wants to play but as I said last week, I am a professional, I respect all of my team mates and what I want to do is enjoy it on the pitch, and I think against Tottenham I did that," Mata said.
"We needed to improve and we tried to, and when I came on I just tried to give my best for the team. It is what I did since I came and it is what I am going to do until the end. I am happy with the second half, but it wasn't enough to win.
"Last season we won here and this season we wanted to win again, it wasn't possible but the team showed that we can fight until the end."