Julian Assange clashes with new CIA chief Mike Pompeo over Vault 7 leaks
Trump's intelligence director looks to remove First Amendment protection from WikiLeaks.
WikiLeaks founder Julian Assange has claimed that the CIA is launching a pre-emptive attack on his organisation to take the sting out of its latest revelations.
The whistleblowing platform has been publishing a series of releases known as Vault 7, which demonstrate "all sorts of illegal actions by the CIA," according to Assange.
Among them is the revelation that the intelligence agency is allegedly capable of directly hacking mobile phones and laptops, making end-to-end encryption services such as Whatsapp and Signal redundant.
Assange made his comments in response to a speech by the new CIA Director Mike Pompeo, in which he used his first public appearance to denounce the work of WikiLeaks.
Pompeo last week (13 April) labelled the organisation a "hostile non-state intelligence agency" which should not be afforded the protections of the First Amendment under the American constitution.
"We can no longer allow Assange and his colleagues the latitude to use free speech values against us," he said.
"To give them the space to crush us with misappropriated secrets is a perversion of what our great Constitution stands for," he said, adding that this protection "ends now".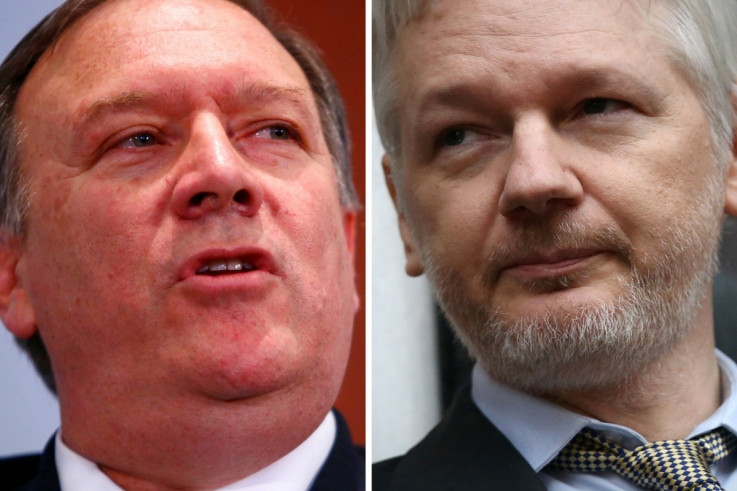 New CIA Director Mike Pompeo (L) and WikiLeaks founder Julian Assange clash over Vault 7 leaks
Getty/Reuters
Assange said Pompeo had used this type of language to turn public opinion against WikiLeaks.
Appearing on the Intercepted podcast with Jeremy Scahill on Wednesday (19 April), Assange said: "The reason Pompeo is launching this attack is because he understands we are exposing in this series all sorts of illegal actions by the CIA, so he's trying to get ahead of the publicity curve and create a pre-emptive defence."
Assange, speaking from the Ecuadorian embassy in London, where he has been seeking political asylum since 2012, also said Pompeo's threat to revoke the First Amendment for publishing organisations such as WikiLeaks was quite disturbing.
"So how does he [Pompeo] propose to conduct this ending?" Assange said. "He didn't say.
"But the CIA is only in the business of collecting information, kidnapping people, and assassinating people. So, it's quite a menacing statement that he does need to clarify."