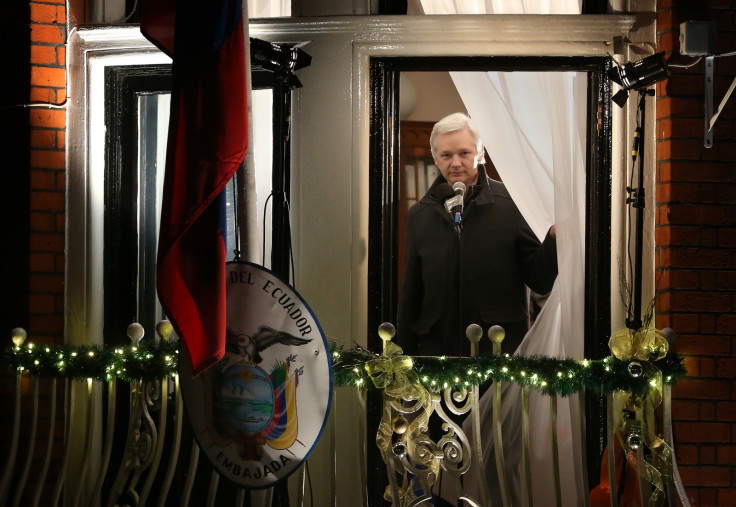 Julian Assange recently scored a major victory after Sweden dropped its investigation into an alleged sexual assault case against the WikiLeaks founder. Assange took to Twitter to post not just a smiling picture of him but also to tweet the words "go mom" after his mother, Christine Assange, slammed the charges against her son as "devious and dishonest".
"It is a relief that it is all out in the open and finally Swedish authorities had to admit they had no evidence to charge him," The Australian quoted Ms Assange as saying. "Our whole family is very concerned about what's coming next, whenever we win one battle they come up with something else and it's always devious and dishonest."
WikiLeaks' publishing policy may change 'under extreme pressure'
Assange said in a recent interview that WikiLeaks' policy of publishing content regardless of who is harmed or benefited may change "under extreme pressure". When questioned on the whistleblowing platform's practice of publishing authentic content expeditiously, Assange responded: "That's our current policy, which might be changed under extreme circumstances."
Giving an example of such a scenario, Assange told Der Spiegel: "If we were on the brink of a nuclear war and a WikiLeaks publication could be misinterpreted, then it would make sense to delay the publication."
When questioned about WikiLeaks' role in election interference and how hackers may now be playing crucial roles in helping political parties win elections, Assange stuck to his guns and reiterated that the whistleblowing platform would continue to publish content, "that's also exactly what the public expects".
"We are not in this business for likes. WikiLeaks publishes documents about powerful organizations. WikiLeaks always will always be the bad boy," Assange added. However, when pressed about how WikiLeaks can influence the outcome of elections, he responded: "WikiLeaks is made up of human beings who have different political views. But we cannot undermine our publicly given commitments, our publicly stated principles."
Assange on Hillary Clinton
When asked about the increasing allegations of WikiLeaks having ties to Russia, Assange dismissed them as "spin" and "media fantasy". However, when the subject of WikiLeaks' loss in popularity following its Clinton emails publications was broached, Assange defensively responded: "What are you saying? If we hadn't published Hillary Clinton's Goldman Sachs speeches, she would have won? Or should we have censored information to favour one candidate? WikiLeaks will never do that."
Assange remained notably silent when asked if he derived any "personal satisfaction" from Clinton's election loss. Der Spiegel's Michael Sontheimer and Jörg Schindler, however, noted that Assange was smiling.
Assange on WannaCry and the NSA cyberweapons stockpile
"The NSA, built a giant stockpile of digital weapons, but lost control of it in 2013," the whistleblower said. He also blamed the NSA for not informing Microsoft and other firms about the theft of their cyber tools and wondered what liabilities the NSA bears for the WannaCry attacks.
"Following the Edward Snowden revelations, the US government promised they would not hoard these vulnerabilities but inform IT corporations so they could fix vulnerable software. It turns out that that was a lie," Assange said.