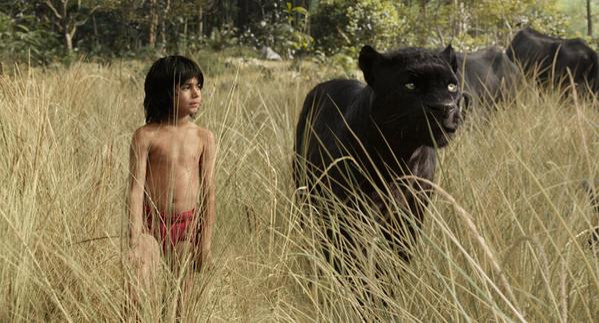 Disney's much-awaited 3D live-animation adventure film The Jungle Book has finally debuted its full-fledged trailer and it looks excellent. Directed by Jon Favreau, the movie narrates the story of an orphan boy (Mowgli) who is raised deep inside the jungle by a pack of wolves, a bear (Baloo) and a black panther (Bagheera).
The gripping trailer begins with a chase between Bagheera, voiced by actor Ben Kingsley, and Neel Sethi's Mowgli. Within seconds, the black panther jumps on the little boy.
However, it is revealed that this was not a serious chase between a hunter and a prey. The animal was instead trying to teach the boy some survival tricks. "If you can't learn to run with the pack, one of these days you'll be someone's dinner," he tells Mowgli.
The 2.25 minute long clip also offers a closer look at the villain of the movie — a tiger named Sher Khan, voiced by Idris Elba, who has an evil eye on the orphaned boy. But to his disappointment, Bagheera always becomes the boy's life-saving shield.
While the panther acts as a rigorous mentor for Mowgli, Baloo, voiced by Bill Murray, is a bundle of affection who showers all his love on the boy. He is seen taking Mowgli for fun-filled water rides and even confesses to Bagheera that he can never forgive himself if something harms Mowgli.
"If anything happens to that kid, I'll never forgive myself," he tells the black panther in one of the scene.
The movie narrates the adventurous journey of Sethi's character after he is asked by his mentor Bagheera to abandon the jungle and go to the men's land as the jungle is no longer safe for him. During his journey, he will meet the mysterious and gigantic Kaa, the python (voiced by Scarlett Johansson), who will later become a well-wisher.
The Jungle Book is a CGI-live-action remake of the 1967 animated film and is an adaptation of Rudyard Kipling's classic. Disney attempts to give the highly-popular saga a realistic approach with the reboot, which will premiere on April 15.
More about The Jungle Book