NHS England believes junior doctors should accept the new contract offer from the government and end further "drawn out industrial action". Simon Stevens, chief executive of NHS England, said it is "incredibly disappointing" that the British Medical Association (BMA) rejected a last-minute offer from the health secretary, Jeremy Hunt.
Hunt is reported be imposing the new contract on the 45,000 junior doctors in a matter of days following the latest 24-hour walkout across the UK, after his "best and final offer" was rejected.
In a letter to Hunt, Sir David Dalton, chief executive of Salford Royal NHS Foundation Trust, said there had been "substantial progress" with negotiations since the end of last year, but the BMA have still refused to compromise over the government's proposed changes. The new contract would see Saturday shifts before 5pm classed as "normal working hours" , therefore not allowing junior doctors to claim overtime. The current contract for junior doctors allows 7pm to 7am Monday to Friday shifts and the whole of Saturday and Sunday to attract a premium.
Dalton added: "In contrast, the employers' position has moved several times, on each occasion offering more hours attracting premium pay. Regardless of these changes, no agreement has been possible. It became clear that the only way to move forward was to make a 'best and final' proposal in the hope that this would lead to settlement.
"Yesterday [9 February] I asked the BMA to respond to my letter by 3pm today [10 February] confirming that they would unequivocally recommend this offer to the JDC meeting on 20 February or I would otherwise have no alternative but to conclude that there was no realistic prospect of a negotiated outcome. Regretfully, no such assurances have been received."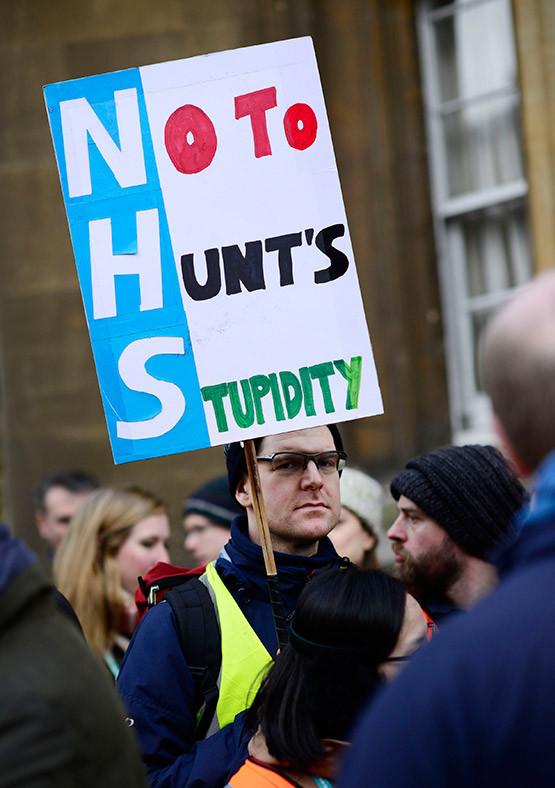 According to an online poll, 90% of medics in the UK said they would consider resigning from the NHS if the government pushed through with the contract. Despite this, Stevens believes it is "right" the new contract comes into place. He said: "Junior doctors play a critical role in the NHS, work incredibly hard in high pressure roles and have a range of legitimate non-pay concerns about their training. These now have to be comprehensively addressed by hospitals, the medical royal colleges and the national training bodies.
"But drawn out industrial action over contracts and pay would mean further disruption to patients who are relying on NHS care, with thousands more operations cancelled and check-ups delayed. That's why Sir David Dalton – one of the health service's most experienced and fair-minded hospital leaders – was called in to negotiate a fair and workable settlement, and it's why it's incredibly disappointing that he has reported that there is 'no realistic prospect of a negotiated agreement'.
"Under these highly regrettable and entirely avoidable circumstances, hospitals are rightly calling for an end to the uncertainty, and the implementation of the compromise package the Dalton team are recommending."
Jim Mackey, chief executive of NHS Improvement, said: "It is disappointing that agreement on a new contract for junior doctors could not be reached. An ongoing dispute is in nobody's interest – patients, the public and NHS staff themselves.
"A shorter working week, limits on the number of consecutive long shifts and regular work reviews, if properly implemented, should lead to better working arrangements for doctors and therefore the patients they care for. It is essential that the NHS can move forward and in this context, hospitals are rightly now calling on the government to follow Sir David Dalton's recommendation on implementing the compromise contract package."