The snapshot of a vicious looking dinosaur, allegedly from the official trailer of Jurassic Park 4, has surfaced online.
4chan Reddit users have claimed that a 40-second trailer of the Jurassic World was leaked which showed a group of dinosaurs with Chris Pratt talking about "man-made" dinosaurs reported kdramastars.com.
Here is the leaked picture.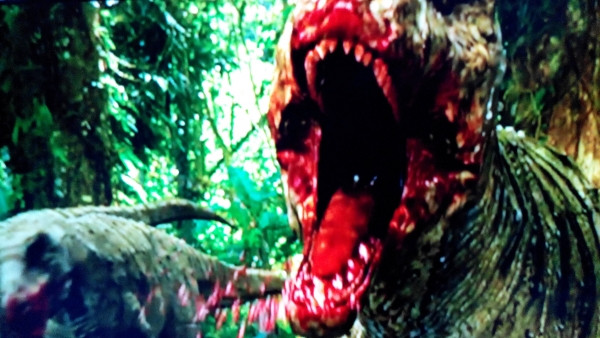 A leaked image, purportedly from the trailer, shows the extremely bloody, open mouth of an angry dinosaur. Interpretations of the photos suggest that this could be the first look of a new dinosaur species, Diabolous Rex.
Director Chris Trevorrow confirmed the existence of a new dinosaur named 'Diabolous Rex' which is a man-made breed that shares the DNA of a snake, cuttlefish, velociraptor and T-Rex.
The Jurassic World trailer allegedly shows shots of dinosaurs roaming the island freely with the Jurassic Park theme playing in the background, and a shot of a T-rex roaring. Then it cuts to Chris Pratt talking to someone about "man-made" dinosaurs not being what nature intended them to be.
Previously, when asked by fans if the fourth movie will revolve around "good" and "bad" dinosaurs, director Colin Trevorrow revealed that there was no such thing.
Trevorrow said: "There's no such thing as good or bad dinosaurs. There are predators and prey. The T-Rex in Jurassic Park took human lives, and saved them. No one interpreted her as good or bad. This film is about our relationship with animals, how we react to the threat they pose to our dominance on earth as a species."
The trailer for Jurassic World will premiere on December 17 alongside The Hobbit 3 and is slated to be released in theatres on June 12, 2015.