'Just beautiful': 10 best Trump burns by Obama's White House photographer Pete Souza in 2017
"I think people can interpret them [however they want to]," Pete Souza said.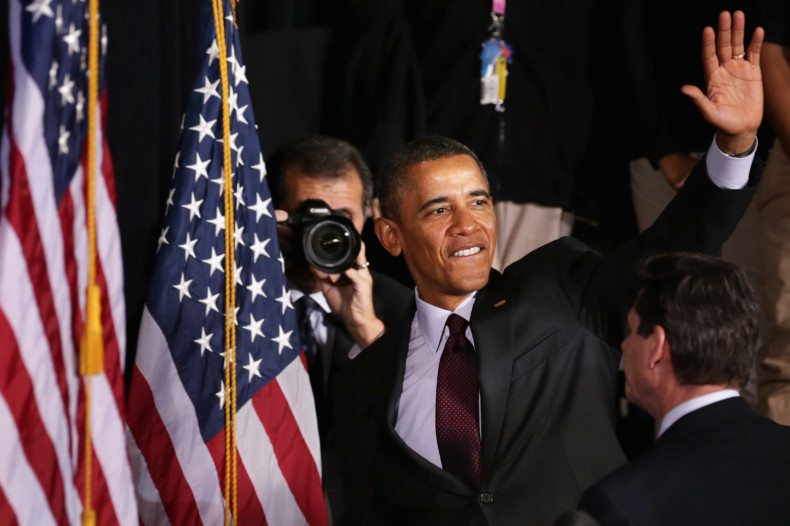 Since January, former White House photographer Pete Souza has consistently posted beautifully captured pictures from Barack Obama's presidential tenure to Instagram, often as a subtle dig at current President Donald Trump, his policies and controversies. From the nearly two million photos taken during the Obama presidency, Souza's carefully chosen, politically relevant images meant to contrast the current and former administrations immediately became an Instagram sensation.
After Trump triggered a massive backlash over his "sexist" comments about MSNBC host Mika Brzezinski, for example, Souza shared a photo of Obama meeting female staffers in the Oval Office including White House Counsel Kathy Ruemmler and Communications Director Jennifer Palmeiri.
Since Souza created the personal @petesouza account on 21 January - a day after Trump's inauguration - he has posted over 700 photos and garnered more than 1.7 million followers and counting.
"I think for the most part what I've tried to do with my current Instagram feed is display public domain photos and be somewhat subtle and respectful in the words that I write," Souza told National Public Radio in November.
"I think people can interpret them [however they want to]. When somebody first wrote a story about 'throwing shade' I actually had to look that up because I really didn't know what it meant.
"I kind of laughed, I guess."
Many dubbed him a "professional shade thrower" and one of the "classiest ones yet" for his timely and cleverly captioned photographs that visually showcased the stark difference between Trump and his predecessor.
From President Trump's controversial travel ban and Nata "shoving incident" to First Lady Melania Trump's apparent refusal to hold her husband's hand, Souza has not shied away or missed an opportunity to troll Trump through his popular Instagram account filled with stunning photographs.
"Beautiful. Just beautiful," one commenter wrote while another said: "How times have changed."
"Thank you for being there to document these occasions and showing the world the truth. Evidence is powerful," one person wrote. "President Obama is a good man and was a good president. I hate how they're trying to tear him down. Bringing down someone else's hard work, good deeds and legacy is not the same as building your own."
Here are some of Souza's best Trump burns on Instagram in 2017:
1. Trump's controversial travel ban
After President Trump signed the controversial executive order barring citizens from seven predominantly Muslim countries and refugees from entering the United States, Souza shared a photo of Obama smiling and speaking to a Muslim refugee girl at a Dignity for Children Foundation classroom in Kuala Lumpur, Malaysia, in 2015.
He later shared a photo of Obama talking to Alex, the six-year-old boy whose touching letter about the bloodied Syrian boy who was pulled from a rubble in Aleppo made waves online.
2. Trump's firing of FBI Director James Comey
After news broke that Trump had fired James Comey, Souza posted a photo of the FBI director sitting in the White House Oval Office with Obama. Obama's chief homeland security and counterterrorism adviser Lisa Monaco, former national intelligence director James Clapper and former White House chief of staff Denis McDonough were also seen in the photograph.
"Every person in this photograph is a patriot," the caption reads.
3. Trump's leaking of highly classified information to Russia
After the Washington Post broke the news about Trump revealing highly classified information about Islamic State (Isis) to Russian officials in May, Souza posted a seemingly simple photo of a folder marked "CLASSIFIED" on Obama's desk.
The caption read: "Organized paperwork on the Resolute Desk, 2009."
4. First Lady Melania Trump's 'refusal' to hold the president's hand
During Trump's inaugural trip as president to the Middle East with First Lady Melania Trump, a couple of viral video clips appeared to show her apparent reluctance to hold her husband's hand.
Souza responded with a photo of Barack and Michelle Obama holding hands while listening to a speech in Selma, Alabama.
5. Trump's response to Tropical Storm Harvey victims
After the deadly Tropical Storm Harvey ploughed through and devastated Texas in August, Trump sparked fierce criticism for not meeting victims during a trip to the storm-torn state.
"What a crowd, what a turnout," Trump said, addressing a gathering of people hit by the storm outside a fire station. "It's historic, it's epic, what happened. But you know what, it happened in Texas and Texas can handle anything."
While many slammed the president over his "lack of solace and empathy", Souza pointedly posted a photo of Obama hugging a victim in New Jersey during his tour of areas hit by Hurricane Sandy in October 2012.
As opposed to some of his earlier subtle and concise captions, Souza didn't mince his words this time around.
"There are no Democrats or Republicans hurting in Houston; there are just Americans," he wrote. "At a time like this, it shouldn't be about selling baseball hats or commenting on crowd size. It's about helping our fellow human beings. Pets too. This storm is catastrophic, not epic. Thousands of people are affected. Please consider donating to the many charities doing good work in Texas and other states to come."
6. President Trump vs 'Rocket Man' Kim Jong-un
As tensions and rhetoric between the US and North Korea continued to escalate in the wake of Pyongyang's adamant nuclear weapons development and intercontinental ballistic missile tests, Trump famously coined a new and controversial nickname for North Korean leader Kim Jong-un in September - "Rocket Man".
Pete Souza responded with a photo of Obama smiling and chatting with Sir Elton John, the singer of the 1970s hit "Rocket Man."
"There's only one Rocket Man, here meeting with President Obama in 2015," Souza wrote.
7. Trump's hyper-political speech to the Boy Scouts
In July, Trump's politically-themed speech at the annual Boy Scout Jamboree made headlines after he jabbed at his political opponents and his predecessor Obama, threatened to fire one of his cabinet members and continuously talked about his election victory.
"Do we remember that date? Was that a beautiful date? What a date," he said referring to Election Day 2016. "But do you remember that incredible night with the maps and the Republicans are red and the Democrats are blue, and that map was so red, it was unbelievable, and they didn't know what to say?"
"And you know we have a tremendous disadvantage in the Electoral College," he continued. "popular vote is much easier."
Souza posted a photo of Barack Obama shaking hands with a Cub Scout at the White House along with the caption: "I can assure you, POTUS was not telling this Cub Scout and the Boy Scouts who followed about his electoral college victory."
8. Trump's embarrassing spat with Time Magazine
After Trump's kerfuffle with Time magazine last month, Souza trolled the president by sharing a series of 15 Time magazine covers featuring the Obamas.
Souza posted the compilation of photos after Trump claimed he turned down the chance to be selected as Time's "Person of the Year" in 2017.
"Time Magazine called to say that I was PROBABLY going to be named 'Man (Person) of the Year,' like last year, but I would have to agree to an interview and a major photo shoot," Trump tweeted. "I said probably is no good and took a pass. Thanks anyway!"
Time, however, quickly shot back saying the president is "incorrect about how we choose Person of the Year." While social media users mercilessly mocked the president over the incident, one Time executive slammed Trump's claim as "total BS".
Souza's caption read: "Someone has a lot of catching up to do."
9. Trump's awkward meeting with Pope Francis
In May, an awkward photograph of President Trump and his family standing besides a less than thrilled Pope Francis at the Vatican became a viral meme that made waves online.
Souza, on the other hand, seized the opportunity to highlight Obama's relationship with the pontiff.
"Mutual admiration, 2016," the caption read for the photograph that shows Obama and Pope Francis with massive grins on their faces shaking hands with their heads slightly bowed.
10. Trump's claim that his predecessors did not call the families of fallen soldiers
In October, Trump was widely criticised after claiming his predecessors did not call or console the families of soldiers killed in action.
Pete Souza swiftly posted a picture of then-president Obama and First Lady Michelle Obama consoling the parents of Army Sergeant 1st Class Jared C Monti who was posthumously awarded the Medal of Honour - the country's highest award for military valour.
"The president and First Lady console Paul and Janet, parents of Army Sgt 1st Class Jared C Monti, who had just been awarded posthumously with the Medal of Honor for his actions in Afghanistan," Souza wrote.
"This was the first of 52 Medals of Honor, the nation's highest award for military valor, that President Obama bestowed during his two terms. I also photographed him meeting with hundreds of wounded soldiers, and family members of those killed in action."